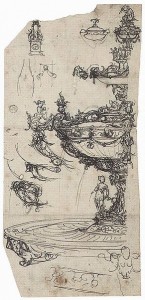 Giving gifts at Christmas is a relatively modern phenomenon, even here in Spain the gifts come from the Three Kings on the eve of Epiphany rather than from Santa on Christmas Eve. In Tudor times, gifts were given at New Year and I thought you might be interested in the following:-
January 1533 (the same month that Anne and Henry secretly married)
"Warrant under the King's sign manual to Cromwell, master of the Jewels, to deliver to the lady of Pembroke [Anne Boleyn] these parcels of gilt plate, late of Sir Henry Guldeford, controller of the Household :—2 gilt pots with round knobs behind the lids, which came to Sir Henry as executor to Sir William Compton, weighing 133 oz. ; a pair of gilt flagons with the arms of France, 147 oz. ; 6 gilt bowls without a cover, 200½oz. ; 3 gilt salts with a cover of Parres touch," which belonged to Sir Will. Compton, 77 oz. ; 12 gilt spoons with demi-knops at the end, 18 oz. ; a pair of parcel-gilt pots, 99½ oz. ; another, 97¾ oz. ; another, 71 oz. ; 6 parcel-gilt bowls without cover, 199¼ oz. ; the cover of the same, 19¾ oz. ; a basin and ewer, parcel-gilt, 77 oz. ; another basin and ewer, parcel-gilt, 64 oz. ; 11 white spoons with roses at the ends, 20¼ oz. ; 4 candles, white, with high sockets, 86½ oz. ; "a round bason of silver for a chamber, and a silver pot to the same, weighing together 138½ oz." ; and a chafing dish, parcel-gilt, 39¾ oz. "And that ye make entry of the foresaid parcels of plate into our book of Extra for the rather noticing the same hereafter." Greenwich, 1 Jan. 24 Hen. VIII."1
Wow, Henry was spoiling Anne wasn't he, although I think I might have preferred jewels to gilt and silver bowls!
January 1534, Queen Anne Boleyn's gift to Henry VIII
"By the Queen. A goodly gilt bason, having a rail or board of gold in the midst of the brim, garnished with rubies and pearls, wherein standeth a fountain, also having a rail of gold about it garnished with diamonds; out thereof issueth water, at the teats of three naked women standing at the foot of the same fountain."2
Anne Boleyn commissioned this silver-gilt table fountain, which Eric Ives describes as "a pumped device which circulated rosewater into a basin so that diners could rinse their hands", from Hans Holbein, the famous Renaissance artist who designed the Mount Parnassus display for Anne's coronation, jewellery and silver work for her, and who may also have painted "The Ambassadors" at her request. Looking at Holbein's sketch for the table fountain, it is clear that it was an incredibly beautiful gift.
I love reading through Letters and Papers and getting this insight into the lives of Henry VIII and Anne Boleyn!
What are you hoping that Santa will bring you this Christmas?
Click here to find out more about Anne Boleyn and Hans Holbein.
Notes and Sources
LP vi. 6
LP vii. 9