Anne of Cleves Arrives in England
Posted By Claire on December 27, 2010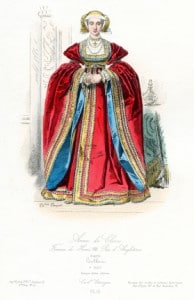 On this day in history, 27th December 1539, Anne of Cleves landed at Deal in Kent. Anne was to be Henry VIII's fourth wife and their marriage was agreed by a treaty in September 1539. Henry had never laid eyes on Anne but instead, had commissioned his court artist, Hans Holbein, to paint her. The portrait was described as a good likeness of Anne and Henry was happy to commit to the marriage, which would see England forming an alliance with the Schmalkaldic League.
When Anne of Cleves landed at Deal at 5pm on 27th December 1539, she was met by Sir Thomas Cheyne and taken to Deal Castle to rest after her long journey. There, she was visited by the Duke of Suffolk and his wife, Catherine Willoughby, the Bishop of Chichester and various knights and ladies. She was informed that she would be meeting the King, her future husband, at Greenwich Palace at a formal reception in a few days time, but she was to be taken by surprise.
On New Year's Day 1540, while Anne was resting at Rochester before travelling on to London, an excited Henry VIII turned up. Henry, the impatient and hopeless romantic, just couldn't wait for his bride to arrive in London and was desperate to see the woman from the portrait, so he decided to follow the chivalric tradition of meeting his future bride in disguise. Tradition said that the love between them would be so strong that Anne would see through his disguise and recognise her future husband, however, as Elizabeth Norton points out, Henry should have learned from the disastrous meeting between his great-uncle, Henry VI, and his bride, Margaret of Anjou!
Henry VIII arrived at Rochester on 1st January 1540 and sent his attendant, Sir Anthony Browne, ahead of him to tell Anne that he had been sent by the King with a New Year's gift for her. Browne told Anne and then Henry, in disguise as a lowly servant, entered the room. Anne was not paying much attention to this servant, as she was watching bull-baiting out of the window, so Henry pulled her towards him in an embrace and tried to kiss her. Anne was obviously shocked at such behaviour from a servant, so obviously did not respond to his advances and Henry's dreams of her seeing through his disguise and falling into his arms lay shattered. The meeting was a complete disaster and the King was humiliated. It was not a good start and Henry decided he did not want to marry this woman. Unfortunately, there was nothing that could be done without offending Anne's brother, the Duke of Cleves, so the marriage went ahead but only lasted until July 1540, just 6 months. Anne of Cleves was lucky, she kept her head, was given a generous settlement and was allowed to continue seeing Henry's children. She became known as "The King's Sister".
You can read more about Anne of Cleves in the following articles:-
Sources