8 July 1503 – An important job for Thomas Boleyn
Posted By Claire on July 8, 2018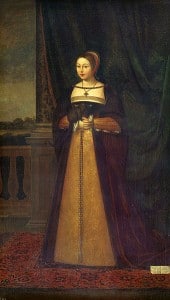 On this day in history, on 8th July 1503, during the reign of King Henry VII, Thomas Boleyn, father of Anne Boleyn, left Collyweston in Northamptonshire to undertake an important job for the king.
Thomas had been appointed as a member of a large retinue headed by his father-in-law, Thomas Howard, Earl of Surrey, to escort Henry VII's daughter, thirteen-year-old Princess Margaret on her journey to Edinburgh, Scotland.
Margaret was travelling to Scotland to prepare for her marriage to thirty-year-old King James IV of Scotland.