7 January 1536 – Death of Catherine of Aragon, First Wife of Henry VIII
Posted By Claire on January 7, 2014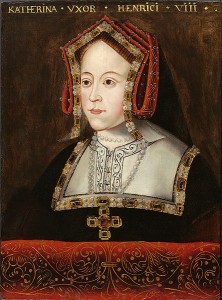 On 7th January 1536, at two o'clock in the afternoon, Catherine of Aragon died at Kimbolton Castle. She had been ill for a few months, but felt worse after drinking a draught of Welsh ale in December 1535. This, combined with the embalmer's report that all of her organs were healthy apart from her heart, "which was quite black and hideous",1 gave rise to rumours that Catherine had been poisoned. However, the embalmer, who was a chandler and not a medical expert, also found a black body attached to Catherine's heart, and it is likely that this was a tumour.
You can read all about her last days and death in my article The Death of Catherine of Aragon. You may also be interested in my article Catherine of Aragon – The Boring One?
In Letters and Papers, there is a record of Catherine of Aragon's will:
"Desires the King to let her have the goods she holds of him in gold and silver and the money due to her in time past; that her body may be buried in a convent of Observant Friars; that 500 masses be said for her soul; that some personage go to our Lady of Walsingham on pilgrimage and distribute 20 nobles on the way. Bequests: to Mrs. Darel 200l. for her marriage. To my daughter, the collar of gold which I brought out of Spain. To Mrs. Blanche 100l. To Mrs. Margery and Mrs. [Whyller] 40l. each. To Mrs. Mary, my physicians [wife, and] Mrs. Isabel, daughter to Mr. Ma[rguerite], 40l. each. To my physician the year's coming [wages]. To Francisco Philippo all that I owe him, and 40l. besides. To Master John, my apothecary, [a year's wages] and all that is due to him besides. That Mr. Whiller be paid expenses about the making of my gown, and 20l. besides. To Philip, Anthony, and Bastian, 20l. each. To the little maidens 10l. each. That my goldsmith be paid his wages for the year coming and all that is due to him besides. That my lavander be paid what is due to her and her wages for the year coming. To Isabel of Vergas 20l. To my ghostly father his wages for the year coming. That ornaments be made of my gowns for the convent where I shall be [buried] "and the furs of the same I give to my daughter."2
As you can see, Catherine had requested to be buried in a Chapel of her beloved order, The Observant Friars, but the recent dissolution of the monasteries meant that there were none left. She was laid to rest on the 29th January 1536 at Peterborough Abbey, which still stands today and is now known as Peterborough Cathedral. Although she was buried as the Dowager Princess of Wales, the Cathedral have marked her grave "Katharine Queen of England" and commemorate her death and burial, and celebrate her life, with a special programme of events known as the Katharine of Aragon Festival. This always takes place at the end of January and this year's festival runs from 31st January to 2nd February and includes:
31st January – 10.30am Service of Commemoration, 5.30pm Sung vespers.
31st January – 7.30pm Tudor Music and Ale Evening, the Becket Chapel.
1st February – 10.30am Tudor Peterborough Walk, starts at Peterborough Museum.
1st February – 2pm, Katharine of Aragon Tudor Authors Talk, John Clare Theatre (Peterborough Central Library). Two bestselling historical novelists, Vanora Bennett and Elizabeth Fremantle, will give a talk about Katharine of Aragon and her impact on British history.
2nd February – 10am-4pm, Tudor Family Day at Peterborough Museum.
See http://www.vivacity-peterborough.com/event/katherine-of-aragon-festival-2014 for more information and details on how to buy tickets.
Notes and Sources
LP x. 141
LP x. 40