Posted By Claire on April 20, 2017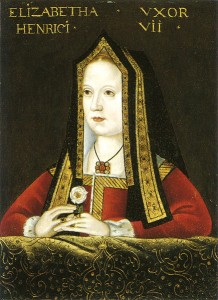 Today's Tudor topic for my 60-second history video series is Elizabeth of York. I refrained from shouting "she wasn't raped!", "there's no evidence that she was in love with Richard III!" and the like and, instead, focused on a brief bio of this Tudor queen consort.
As I've explained before, the idea of this series is to give information about Tudor history in easy-to-digest 60-second chunks. Die-hard Tudor history fans don't, of course, need these videos, but I hope they act as introductions to newbies or students.
My first seven videos were on the Tudor dynasty, Henry VII, Henry VIII, Edward VI, Queen Jane (Lady Jane Grey), Mary I and Elizabeth I. You can catch them on the 60 Second History playlist of the Anne Boleyn Files YouTube channel.
If you would like to know even more about Elizabeth of York then here are some links to articles here at the Anne Boleyn Files:
More links!
Coronation of Elizabeth of York – 25 November 1487 on the Tudor Society website
Tudor Society members can read articles on Elizabeth of York in the following editions of Tudor Life magazine: March 2016 (Queen of England and Bride of Peace: The legacy of Elizabeth of York by Lauren Browne), May 2015 (Richard III and Elizabeth of York: Romance or the rumour mill by Olga Hughes), February 2015 (Henry VII and Elizabeth of York: While the world shall endure by Ola Hughes), January 2015 (Henry VII and Elizabeth of York: the first Tudor marriage by Olga Hughes), December 2014 (Henry VII and Elizabeth of York: A long betrothal by Olga Hughes)
Olga Hughes has several articles on Elizabeth of York on her blog Nerdalicious – see http://nerdalicious.com.au/?s=elizabeth+of+york
My favourite book on Elizabeth of York is Elizabeth of York: Forgotten Tudor Queen by Amy Licence.