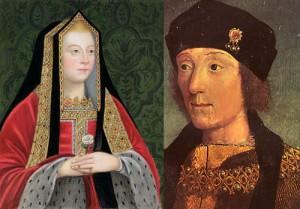 On 18th January 1486, just under five months after his victory at the Battle of Bosworth, twenty-nine year-old King Henry VII married twenty year-old Elizabeth of York, daughter and eldest child of Edward IV and Elizabeth Woodville, at Westminster Abbey. The service was conducted by Thomas Bourchier, Archbishop of Canterbury.
Henry had been crowned on 30th October 1485 so why the delay in marrying Elizabeth? Elizabeth's biographer Amy Licence believes that the delay was down to several different factors, and none of them being that Henry was not sure that he wanted to marry Elizabeth:
His first Parliament had to sit
There was a terrible outbreak of plague in London in autumn 1485
There were things to sort out, e.g. "the Titulus Regis was repealed and the dowager queen's reputation restored".
Henry "wanted to ensure his kingship was established and independent of Elizabeth's claim before the ceremony took place."
Parliament approved the marriage match on 10th December 1485, with the Speaker declaring "Which marriage, they hoped God would bless with a progeny of the race of kings, to the great satisfaction of the whole realm", and on 16th January 1486 a papal dispensation was issued to cover the degree of sanguinity within the fourth degree. As I have said in previous articles, there is no contemporary account of the wedding ceremony but The Crowland Chronicle Continuations: 1459-1486, there is the following record of the marriage:
"…after the victory of the said king Henry the Seventh, and the ceremonies of his anointing an coronation, on the last day but one of the following month, by the hand of the most reverend father, Thomas, cardinal archbishop of Canterbury, and in due conformity with the ancient custom, the marriage was celebrated, which from the first had been hoped for, between him and the lady Elizabeth, the eldest daughter of king Edward the Fourth. This was duly solemnized, at the instance and urgent entreaty of all three of the estates of the realm, in the presence of the Church, on the eighteenth day of the month of January, in the year of our Lord, according to the computation of the Roman Church, 1486; a dispensation having been first obtained from the Apostolic See on the account of the fourth degree of consanguinity, within which the king and queen were related to each other."
It's such a shame that we don't have a record of the ceremony and the couple's attire.
You can find out more about the bride and groom in my article "Henry VII marries Elizabeth of York".
Notes and Sources
Licence, Amy (2013) Elizabeth of York: The Forgotten Tudor Queen, Amberley Publishing, p.115-116.
The Croyland Chronicle: Part IX The Third Continuation of the History of Croyland Abbey: July, 1485 – April, 1486, available from the Richard III Society Online Library.