6 July 1553 – King Edward VI Dies
Posted By Claire on July 6, 2014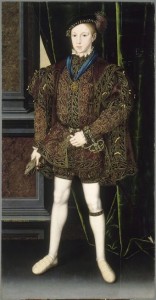 At sometime between 8pm and 9pm on 6th July 1553 fifteen year-old King Edward VI, the son of Henry VIII and Jane Seymour, died at Greenwich Palace. He died in the arms of Sir Henry Sidney, one of the Chief Gentleman of his Privy Chamber, and his last words were "I am faint; Lord have mercy upon me, and take my spirit". He had been ill on and off since January 1553, so his death was not unexpected.
While he was dying, Edward wrote his "Devise for the succession", in which he removed his half-sisters Mary and Elizabeth from the succession. The original draft stipulated that the Crown would descend through the male heirs of Frances, Duchess of Suffolk, and the male heirs of her children, if Edward died childless. The problem was that there were no male heirs yet, so when Edward made a turn for the worse he decided to change the Device to read "To the Lady Fraunceses heirs males, if she have any such issue before my death to the Lady Jane and her heirs males." Edward had decided on Lady Jane Grey as his heir if she or her mother did nor produce a male heir in time. This devise would, ultimately, cost Lady Jane Grey her life.
Jane was proclaimed queen on 10th July 1553 but lost the throne to Mary I on 19th July 1553.
You can read more about Edward VI in the following articles: