5 September 1548 – Death of Catherine Parr, Queen Dowager and Henry VIII's Sixth Wife
Posted By Claire on September 5, 2014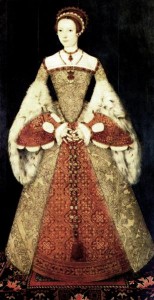 On 5th September 1548, just six days after gving birth to her first child, a baby girl, Catherine Parr, Queen Dowager and wife of Thomas Seymour, Baron Seymour of Sudeley, died of puerperal fever at Sudeley Castle. She was around 36 years of age and had been married four times. Catherine was laid to rest in Sudelely Castle's chapel.
You can read more about Catherine's death and the discovery of her remains in 1782 in my article from 2012 – 5 September 1548 – Death of Catherine Parr, Queen Dowager – and you can read more about her daughter Mary Seymour in The Mystery of Mary Seymour Solved?
Also on this day in history…
1569 – Death of Edmund Bonner, Bishop of London and a man nicknamed "Bloody Bonner", in Marshalsea Prison. He was buried at St George's, Southwark, but it is thought that his remains were later moved to Copford, near Colchester, a manor held by Bonner as Bishop of London. In Mary I's reign, he was in charge of burning reformers in London, hence his nickname "Bloody Bonner". Bonner was imprisoned in Elizabeth I's reign for refusing to follow the Book of Common Prayer in his services, and for refusing to take the Oath of Supremacy.