Posted By Claire on October 4, 2011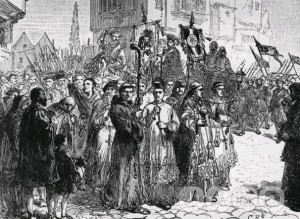 On this day in history, Wednesday 4th October 1536, there was trouble in Horncastle, Lincolnshire, part of what we know as the Lincolnshire Rising which, in turn, was part of the Pilgrimage of Grace rebellion.
Dr Raynes, the chancellor of the Bishop of Lincoln, who was staying nearby at Bolingbroke, after having held a session of the commissionary's court there, was dragged from his sickbed and taken to Horncastle. Francis Aidan Gasquet, the 19th century Benedictine monk and historical scholar, describes what happened next in his book "Henry VIII and the English Monasteries":-
"As the chancellor rode into the field with his captors the passions of the mob were stirred, and there occurred one of the two acts of violence, which alone in this or the subsequent Yorkshire rising, disgraced the movement! "At his coming into the field," declares Brian Staines, " the rebels, whereof were many parsons and vicars, cried out with a loud voice, ' Kill him, kill him.' And upon that one William Hutchinson, of Horncastle, and William Balderstone, by the procurement of the said parsons and vicars, pulled him violently off his horse, kneeling upon his knees, and with their staves they slew him. And being dead, this deponent saith the priests continually crying, ' Kill him, kill him,' he also struck the said chancellor upon the arm with a staff." "
R.W. Hoyle, in his book "The Pilgrimage of Grace and the Politics of the 1530s writes of how there was also a second murder that day, that of Thomas Wulcey (or Wolsey), one of Cromwell's men, who was hanged by the mob and M.L.Bush, in "The Pilgrimage of Grace: A Study of the Rebel Armies of October 1536", writes of how it was also on this day in 1536 that Robert Aske "became a committed rebel".
Gasquet writes of how the rebels at Horncastle "devised certain articles of grievance which were to be forwarded to the king". These articles of complaint were drawn up by the gentry, Sheriff Dymmoke and his brother, and then presented to the crowd who held up their hands and said "We like them very well." The rebels complained about:-
"The dissolution of the religious houses and of the consequent destitution of 'the poorealty of the realm'"
"The restraints imposed on the distribution of property by the 'statute of uses'"
"The grant to the king of the tenths and first-fruits of spiritual benefices"
"The payment of the subsidy demanded of them"
"The introduction into the king's council of Crumwell, Rich, and other 'such personages as be of low birth and small reputation'"
"The promotion of the archbishops of Canterbury and Dublin, and the bishops of Rochester, St. David's,
and others, who, in their opinion, had clearly 'subverted the faith of Christ'.
These articles were dispatched immediately to the King and on the 11th October the King's herald arrived at Lincoln with the King's reply:-
"Concerning choosing of counsellors," the king wrote, "I never have read, heard nor known, that princes' counsellors and prelates should be appointed by rude and ignorant common people ; nor that they were persons meet or of ability to discern and choose meet and sufficient counsellors for a prince. How presumptuous then are ye, the rude commons of one shire, and that one of the most brute and beastly of the whole realm and of least experience, to find fault with your prince for the electing of his counsellors and prelates, and to take upon you, contrary to God's law and man's law, to rule your prince whom ye are bound to obey and serve with both your lives, lands, and goods, and for no worldly cause to withstand.

As to the suppression of houses and monasteries, they were granted to us by the parliament and not set forth by any counsellor or counsellors upon their mere will and fantasy, as you, full falsely, would persuade our realm to believe. And where ye alledge that the service of God is much thereby diminished, the truth thereof is contrary ; for there are no houses suppressed where God was well served, but where most vice, mischief, and abomination of living was used : and that doth well appear by their confessions, subscribed with their own hands, in the time of our visitations. And yet were suffered a great many of them, more than we by the act needed, to stand ; wherein if they amend not their living, we fear we have more to answer for than for the suppression of all the rest. And as for their hospitality, for the relief of poor people, we wonder ye be not ashamed to affirm, that they have been a great relief to our people, when a great many, or the most part, hath not past 4 or 5 religious persons in them and divers but one, which spent the substance of the goods of their house in nourishing vice and abominable living. Now, what unkindness and unnaturality may we impute to you and all our subjects that be of that mind that had rather such an unthrifty sort of vicious persons should enjoy such possessions, profits and emoluments as grow of the said houses to the maintenance of their unthrifty life than we, your natural prince, sovereign lord and king, who doth and hath spent more in your defences of his own than six times they be worth."
The letter went on but I think you get the gist of it. Henry was not giving in to their demands and concluded his message with a warning:-
"We charge you, eftsoon, upon the foresaid bonds and pains, that ye withdraw yourselves to your own houses, every man ; and no more to assemble, contrary to the laws and your allegiances ; and to cause the provokers of you to this mischief to be delivered to our lieutenant's hands or ours and you yourselves to submit to such condign punishment as we and our nobles shall think you worthy."
Also on this day in history…
1539 – Signing of the marriage treaty between Henry VIII and Anne of Cleves
1556 – John Cheke made a public recantation on front of Queen Mary I
Notes and Sources
Henry VIII And the English Monasteries by Francis Aidan Gasquet
The Pilgrimage of Grace and the politics of the 1530s by R. W. Hoyle
The Pilgrimage of Grace: A study of the rebel armies of October 1536 by M. L. Bush