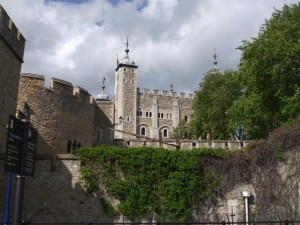 Following on from her wonderful article Katherine Howard, the Duchess and Norfolk House two weeks ago, Marilyn Roberts has written a second article giving an update on the Howard family in December 1541…
470 Years Ago – Terror for the Howards at Christmas
by Marilyn Roberts
A great deal has happened to the Howards and their co-accused since we left them the first week in December, when the aged Dowager Duchess was so confused and frightened that "… she hath so meshed and tangled herself that … it will be hard for her to wind out again."
6th December 1541
After more torture Davenport remembers Dereham telling him that when King Henry took a fancy to Katherine he, Dereham, accepted he had to let her go, but had added if Henry were dead "I am sure I might marry her."
The old Duchess, questioned all day, is still denying having "any suspicion of evil" between her step-granddaughter and any gentlemen employed at Norfolk House, but evidence from other witnesses suggests she knew Katherine was closer to a young man of the household than she should have been, but they all agree that the girl had been chastised for her misbehaviour.
7th-8th December 1541
The questioning and torture continue, but already the Council claims to have enough ammunition to convict the accused of misprision (concealment) of treason, which involves the loss of all belongings, life imprisonment and, frequently, the death penalty.
8th December 1541
After reading more reports from the interrogators, Henry VIII gives the go-ahead to commit the old Duchess of Norfolk, her daughter the Countess of Bridgewater, her son Lord William Howard and members of her household to the Tower for misprision of treason; their houses and goods to be put in safe custody. If Dereham can tell no more, he and Culpeper are to be told to "prepare their souls" prior to execution.
9th December 1541
The Duchess, still detained at the Lord Chancellor's house and probably only able to guess at what is happening on the outside, is to be examined as to where her money and treasure are, at which point she must surely understand all too clearly the extreme gravity of her situation and what the charges against her are going to be. If she dies of shock before she is indicted her goods will not be forfeit, so her examiners think they need to get a move on and charge her formally.
10th December 1541
Thomas Culpeper and Francis Dereham are executed at Tyburn, near to where Marble Arch now stands. Unlike Culpeper, his social superior and a onetime trusted servant of the King who is allowed simple beheading, the more humble Dereham suffers the full horrors of hanging, being cut down while still living, castration, his entrails drawn out and his body hacked into quarters.
The decision is taken that the households in Lambeth and Horsham be shut down. Wriothesley and Pollard are to start the inventory of the Duchess's goods.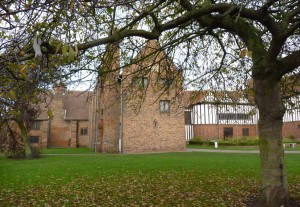 Surviving images and fairly recent excavation reports appear to indicate that Norfolk House would have been something like this. The long window right of centre is in a small gallery, possibly like 'the little gallery' where Dereham and the other naughty boys hid when Duchess Agnes was on the prowl.
11th December 1541
The first of several large amounts of money (worth hundreds of thousands of pounds today) is found at Norfolk House.
The "old lady of Norfolk" is committed to the Tower accused of misprision of treason; the King is to be informed that her interrogators will do their best to get her to confess to the things testified against her and "cough out" more. She reveals she has a further £1000 (£370,000) hidden at Norfolk House.
13th December 1541
The old lady's grandchildren who lived with her are to be sent to Lady Oxford, the Archbishop of Canterbury and the Bishop of Durham. Sir Thomas Wriothesley is to be made responsible for Norfolk House.
20th December 1541
The Duchess, found by Wriothesley and the Earl of Southampton ill on her bed in the Tower "and apparently very sickly" begs the King's forgiveness for not having disclosed what she knew of her step-granddaughter's affairs before the marriage and confesses to having a further £800 hidden at Norfolk House. She is sobbing, and on her knees begs them to ask the King not to give away her house at Lambeth.
21st December 1541
So much in money and valuables has been confiscated from Norfolk House (by now the equivalent of millions of pounds today) that Wriothesley is extremely anxious and "would sleep better" if someone else could be assigned responsibility for its safe-keeping, even though it has been sealed in bags and boxes and moved to Westminster Palace.
22nd December 1541
The accused, except the Dowager Duchess herself and her daughter Lady Bridgewater, are arraigned for and found guilty of, misprision of treason. The Council think the King should know that the convicted women are in such a state that the lord privy seal and Wriothesley intend to visit the next day to "… give them some further hope and cause Mr. Lieutenant to give them some liberty [within the Tower] and let honest friends visit them."
They must be in a very bad way for a hard man like Wriothesley to be moved. However, the reply shows there will be no mercy yet, for late that night Sir Ralph Sadler writes back to the Council in London that the King will not allow it.
The aged Duchess is to be left to sweat it out in the Tower over Christmas and it looks as though her fate will be decided, along with that of her daughter Lady Bridgewater and her step-granddaughter Queen Katherine, who is still being held at Syon near Hampton Court, when the new parliament convenes mid-January.