Posted By Claire on March 4, 2017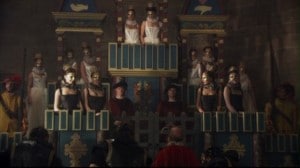 On Shrove Tuesday 1522, 4th March, Anne Boleyn took part in the pageant of "The Château Vert" at York Place, a property owned by Cardinal Thomas Wolsey.
This was her first recorded public appearance at court since her return from France in late 1521. The pageant was part of the Shrovetide celebrations which began on 1st March 1522 and which also celebrated the negotiations between Charles V, Holy Roman Emperor, and Henry VIII for a joint attack on France, which were to be sealed by the marriage of Charles V and Princess Mary, daughter of Henry VIII.