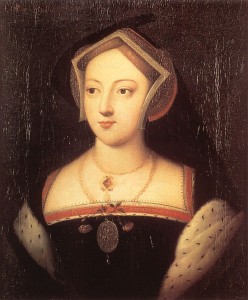 On this day in history, Saturday 4th February 1520, Anne Boleyn's sister, Mary Boleyn, got married to William Carey in the Chapel Royal at Greenwich Palace.
We know that the king attended and that he made an offering of "6s. 8d." (6 shillings and 8 pence) at the service, because this is recorded in the 1520 King's Book of Payments, but we don't have any further details of the wedding.
Also on this day in history, in 1555, John Rogers, clergyman and Biblical editor, was burned at the stake at Smithfield. Rogers was the first English Protestant burned in Mary I's reign after being condemned as a heretic. Click here to read more.