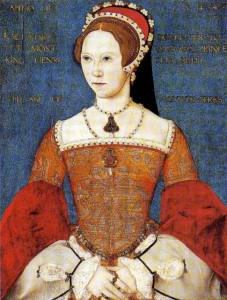 On 26th May 1536, a week after Anne Boleyn had been executed, Henry VIII's eldest daughter, Mary, wrote to Thomas Cromwell from her household at Hunsdon. The purpose of her letter was to ask for Cromwell to intercede with her father on her behalf now that "that woman" was gone. The letter is damaged but these are the snippets we have:
"Master Secretary, I would have been a suitor to you before this time to have been a mean for me to the King's Grace to have obtained his Grace's blessing and favor; but I perceived that nobody durst speak for me as long as that woman lived, which is now gone; whom I pray our Lord of His great mercy to forgive." Is now the bolder to write, desiring him for the love of God to be a suitor for her to the King, to have his blessing and leave to write to his Grace. Apologises for her evil writing; "for I have not done so much this two year and more, nor could not have found the means to do it at this time but by my lady Kingston's being here. Hunsdon, 26 May."1
Mary obviously held Anne Boleyn responsible for her ill-treatment and the breach in her relationship with Henry, and was now hopeful that Cromwell could help her rebuild her relationship with her father. Mary was to be disappointed because things were actually going to get worse, as she found out on 15th June 1536 – see Henry VIII's Council Bullies Mary.
Notes and Sources
LP x. 968