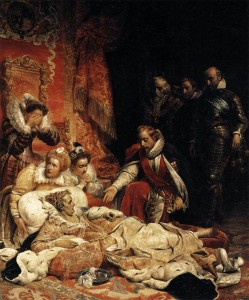 On this day in history, the 24th March 1603, Queen Elizabeth I, daughter of Henry VIII and Anne Boleyn, died at Richmond Palace.
Elizabeth I's death was the end of an era in so many ways: the end of England's Golden Age, the end of a long reign (over 44 years) and the end of the Tudor dynasty. The Tudor line died with the Virgin Queen and it was the son of Mary Queen of Scots, James VI of Scotland, who became James I of England and who began the House of Stuart in English history.
Here is a primary source account of Elizabeth I's last days, written by Sir Robert Carey, Earl of Monmouth, son of Henry Carey, 1st Baron Hunsdon, and grandson of Mary Boleyn, in his memoirs:
"I took my journey about the end of the year 1602. When I came to court, I found the Queen ill disposed, and she kept her inner lodging; yet she, hearing of my arrival, sent for me. I found her in one of her withdrawing chambers, sitting low upon her cushions. She called me to her; I kissed her hand, and told her it was by chiefest happiness to see her in safety, and in health, which I wished might long continue. She took me by the hand, and wrung it hard, and said, 'No, Robin, I am not well,' and then discoursed with me of her indisposition, and that her heart had been sad and heavy for ten or twelve days; and in her discourse, she fetched not so few as forty or fifty great sighs. I was grieved at the first to see her in this plight; for in all my lifetime before, I never knew her fetch a sigh, but when the Queen of Scots was beheaded. Then, upon my knowledge, she shed many tears and sights, manifesting her innocence, that she never gave consent to the death of that Queen.
I used the best words I could, to persuade her from this melancholy humour; but I found by her it was too deep-rooted in her heart, and hardly to be removed. This was upon a Saturday night, and she gave command, that the great closet should be prepared for her to go to chapel the next morning. The next day, all things being in readiness, we long expected her coming. After eleven o'clock, one of the grooms came out, and bade make ready for the private closet; she would not go to the great. There we stayed long for her coming, but at the last she had cushions laid for her in the privy chamber hard by the closet door, and there she heard service. From that day forwards, she grew worse and worse. She remained upon her cushions four days and nights at the least. All about her could not persuade her, either to take any sustenance, or go to bed. The Queen grew worse and worse, because she would be so, none about her being able to persuade her to go to bed. My Lord Admiral was sent for, (who, by reason of my sister's death, that was his wife, had absented himself some fortnight from court;) what by fair means, what by force, he got her to bed. There was no hope of her recovery, because she refused all remedies.
On Wednesday, the 23d of March, she grew speechless. That afternoon, by signs, she called for her council, and by putting her hand to her head, when the king so Scots was named to succeed her, they all knew he was the man she desired should reign after her. About six at night she made signs for Archbishop Whitgift and her chaplains to come to her, at which time I went in with them, and sat upon my knees full of tears to see that heavy sight. Her Majesty lay upon her back, with one hand in the bed, and the other without. The bishop kneeled down by her, and examined her first of her faith; and she so punctually answered all his several questions, by lifting up her eyes, and holding up her hand, as it was a comfort to all the beholders. Then the good man told her plainly what she was, and what she was to come to; and though she had been long a great Queen here upon earth, yet shortly she was to yield an account of her stewardship to the King of kings. After this he began to pray, and all that were by did answer him. After he had continued long in prayer, till the old man's knees were weary, he blessed her, and meant to rise and leave her. The Queen made a sign with her hand. My sister Scroop knowing her meaning, told the bishop the Queen desired he would pray still. He did so for a long half hour more, with earnest cries to God for her soul's health, which he uttered with that fervency of spirit, as the Queen, to all our sight, much rejoiced thereat, and gave testimony to us all of her Christian and comfortable end. By this time it grew late, and every one departed, all but her women that attended her.
This that I heard with my ears, and did see with my eyes, I thought it my duty to set down, and to affirm it for a truth, upon the faith of a Christian; because I know there have been many false lies reported of the end and death of that good lady."
After Carey had left, Elizabeth slipped into a deep sleep and died peacefully in her sleep in the early hours of the 24th March. Diarist John Manningham recorded her actual death:-
"This morning, about three o'clock her Majesty departed from this life, mildly like a lamb, easily like a ripe apple from a tree… Dr Parry told me he was present, and sent his prayers before her soul; and I doubt not but she is amongst the royal saints in heaven in eternal joys."
RIP Queen Elizabeth I.
Now, I could carry on being sad and morbid, but as I was reading the moving accounts of Elizabeth I's death, I thought it would be appropriate to celebrate her life, rather than just focus on her death. She was an incredible woman and there are many people around the world who admire her, but why?
For me, I must admit, that part of the attraction is that she was the daughter of Anne Boleyn and as I read more about Elizabeth I see glimpses of her mother in her. As I read her letters and speeches I am blown away by her way with words, her wit, her intelligence and her skills of diplomacy. When I look at the events of her life and reign, I am overawed by the challenges she faced and how she overcame them. When I consider the status of women in Tudor times, I am amazed by Elizabeth's achievements, and when I read the words of her friends and advisers I am struck by the respect and love they had for a woman who could be incredibly spiteful at times. She was a formidable woman and queen and deserves to be remembered as such.
Originally posted on The Elizabeth Files.
Notes and Sources
Sir Robert Carey's Memoirs, edited by John Boyle, 5th Earl of Cork, in 1759, and by Sir Walter Scott in 1808, quoted on Elfinspell.com