22 June 1528 – Death of William Carey, Husband of Mary Boleyn
Posted By Claire on June 22, 2014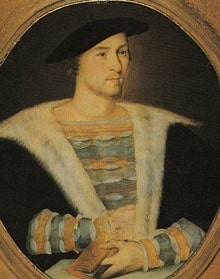 On 22nd June 1528, William Carey, husband of Mary Boleyn and an Esquire of the Body to King Henry VIII, died. He was the victim of the outbreak of sweating sickness which also killed many members of the Archbishop of Canterbury's household and monks at London's Charterhouse.
Carey was not the only member of the King's privy chamber to die, William Compton and Francis Poyntz also lost their lives to the disease. Other prominent members of court, including the Marquis and Marchioness of Dorset, Sir Thomas Cheyney, Henry Norris, Sir John Wallop, George Boleyn and Thomas Boleyn also came down with it, but survived, as did Anne Boleyn.
Carey's death left the widowed Mary with two children to provide and in considerable financial difficulty. Mary was forced to write to the King for help. Henry VIII obliged, securing financial help for her from her father, Thomas Boleyn, and granting the wardship of Mary's son, Henry, to Anne Boleyn. Wardship was standard practice in Tudor times and other examples of it include Charles Brandon being granted the wardship of the teenage Catherine Willoughby, and Lady Jane Grey becoming Thomas Seymour's ward. In the case of a woman being widowed, it was quite usual for a son who was not 'of age' to become the ward of another adult or family. Anne provided the boy with a good education, appointing the French poet and reformer, Nicholas Bourbon, as his tutor. Carey was educated along with Henry Norris (son of Sir Henry Norris, Henry VIII's Groom of the Stool) and Thomas Howard.
Sweating sickness was a highly contagious disease which decimated towns around England, sometimes taking thousands of lives. You can find out more about it in my video:
Please do check out my other videos on The Anne Boleyn Files YouTube Channel – click here.
Also on this day in history…
1535 – The Execution of Bishop John Fisher – Click here to read all about it.