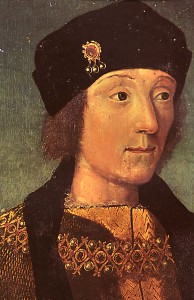 On this day in history, 22nd August 1485, the armies of King Richard III and Henry Tudor, son of the late Edmund Tudor, Earl of Richmond, and Lady Margaret Beaufort, met on a field near Market Bosworth in rural Leicestershire. Richard was killed in the battle and Henry was crowned King Henry VII, starting a new era and dynasty: the Tudors.
You can read more about the battle in the following articles:
There are also various contemporary accounts of the Battle of Bosworth and here are some extracts from them, describing Richard's death…
The Ballad of Bosworth Field
"He said, 'Give me my battle-axe in my hand,
Set the crown of England on my head so high!
For by Him that shope both sea and land,
King of England this day will I die!
One foot will I never flee
Whist the breath is my breast within!'
As he said it, so did it be;
If he lost his life, if he were King.
About his standard can they light,
The crown of gold they hewed him fro,
With doleful dints his death they dight,
The duke of Norfolk that day they slew."1
Continuation of the Crowland Chronicle
"For while fighting, and not in the act of flight, the said king Richard was pierced with numerous deadly wounds, and fell in the field like a brave and most valiant prince; upon which, the duke of Norfolk (2), before-mentioned, Sir Richard Ratclyffe, Sir Robert Brackenbury, keeper of the Tower of London, John Kendall, secretary, Sir Robert Percy, controller of the king's household, and Walter Devereux, lord Ferrers, as well as many others, chiefly from the north, in whom king Richard put the greatest condifence, took flight without engaging; and there was left no part of the opposing army of sufficient importance or ability for the glorious conqueror Henry the Seventh to engage, and so add to his experience in battle."2
Hall's Chronicle
"Kyng Rychard set on so sharpely at the first Brout y he ouerthrew therles standarde, and slew Sir William Brandon his standarde bearer (whiche was father to sir Charles Brandon by kynge Henry viii. created duke of Suffolke) and matched hand to hand w sir Ihon Cheinye, a man of great force & strength which would haue resisted him, & the saied Ihon was by him manfully ouerthrowen, and so he making open passage by dent of swerde as he went forward, therle of Richmond with stode his violence and kept him at the swerdes poincte without auantage longer then his compaignions other thought or iudged, which beyng almost in dispaire of victorie, were sodainly recomforted by Sir William Stanley, whiche came to succours with. iii. thousand tall men, at whiche very instant kynge Richardes men were dryuen backe and fledde, and he him selfe manfully fyghtynge in the mydell of his enemies was slayne and brought to his death as he worthelyhad deserued."3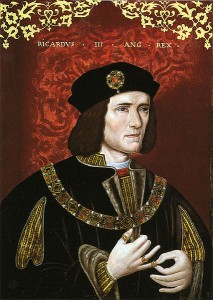 Polydore Vergil's Anglica Historia
"But yeat Henry abode the brunt longer than ever his owne soldiers wold have wenyd, who wer now almost owt of hope of victory, whan as loe William Stanley with thre thowsand men came to the reskew: than trewly in a very moment the resydew all fled, and king Richerd alone was killyd fyghting manfully in the thickkest presse of his enemyes."4
The American Branch of the Richard III Society have further contemporary accounts available to read on their website – click here.
Richard III's Injuries and Death
Remains found in an archaeological dig in Leicester last year were confirmed in February 2013 to be those of King Richard III. The University of Leicester Press Office said that:
"Trauma to the skeleton indicates the individual died after one of two significant wounds to the back of the skull – possibly caused by a sword and a halberd.
This is consistent with contemporary accounts of Richard being killed after receiving a blow to the back of his head.
The skeleton also showed a number of non-fatal injuries to the head, rib and pelvis – believed to have been caused by a wound through the right buttock – which may have been caused by 'humiliation injuries' after death."5
It is thought that Richard III lost his helmet sometime during the battle and was fighting on foot when he was killed. A wound to the top of the skull was a penetrating wound thought to have been caused by a direct blow from a weapon but the fatal wounds were at the back of the head. The first one was caused by a sword or halberd slicing away a large piece of the skull and the second "nearby blow had cut 10cm into the skull". Jo Appleby, the archaeology team's osteologist, said that "both of these would have caused immediate unconsciousness with death following shortly."6 Other wounds, such as "a cut to his rib, inflicted from the back, and another to his pelvis, from a blow thrust through the right buttock" are thought to have been humiliation injuries inflicted on the dead king after he had been stripped naked and thrown over a horse to take him to Leicester.
The new king, Henry VII, secured his claim to the throne by marrying Elizabeth of York on the 18th January 1486, thus uniting the Houses of York and Lancaster and starting a new dynasty: The House of Tudor. The emblem of the Tudor Rose symbolised this union by combining the white rose of York and the red rose of Lancaster.
Also on this day in history…
1545 – Death of Charles Brandon, Duke of Suffolk, magnate, courtier, soldier and close friend of Henry VIII, at Guildford, while making preparations to lead an army to Boulogne. He was laid to rest in St George's Chapel, Windsor Castle. He died on the anniversary of the death of his father, Sir William Brandon, who was killed at the Battle of Bosworth while acting as Henry Tudor's standard bearer.
1553 – Execution of John Dudley, Earl of Warwick and Duke of Northumberland, on Tower Hill for his part in putting his daughter-in-law, Lady Jane Grey, on the throne in place of Mary I. He was buried in the Chapel of St Peter ad Vincula, at the Tower of London, and is thought to lie under the Chancel floor next to Edward Seymour, Duke of Somerset, and between Anne Boleyn and Catherine Howard. Northumberland's friends, Sir John Gates and Sir Thomas Palmer, were also executed on this day in 1553 for supporting Northumberland. Read more…
Notes and Sources