Posted By Claire on August 20, 2013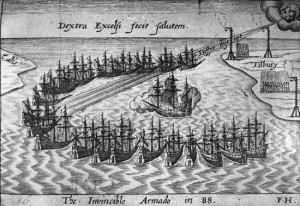 On this day in history, the 20th August 1588, a thanksgiving service was held at St Paul's in London to give thanks to God for England's victory over the Spaniards. The Spanish Armada had been defeated, obliterated in fact, yet the English fleet was left intact and only around 100 English men were lost in the skirmishes.
Read more over at The Elizabeth Files.
Back in 2010, I wrote a series of articles for The Elizabeth Files on The Spanish Armada: