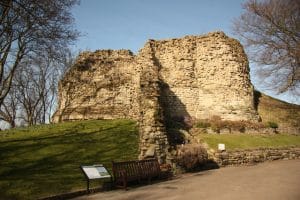 By eight o'clock in the morning on this day in history, 20th October 1536, Thomas Darcy, 1st Baron Darcy of Darcy, had surrendered his castle, Pontefract Castle in Yorkshire, to the rebels of the Pilgrimage of Grace rebellion. Lord Darcy and the castle inhabitants then swore the rebel oath.
Lord Darcy had sent a message to Henry VIII from Pontefract Castle on 17th October 1536 regarding the trouble in the area and how he "had been forced to flee to Pontefract Castle with 12 horse". He explained that he had "used all the policy I knew for the repression of the unlawful assemblies, and when I found I could not prevail I repaired to Pontefract with such number of persons as seemed convenient." In another message, "A remembrance of things committed to Sir Arthur Darcy, kt. [Darcy's son} to be declared to the King's Highness.", sent on the same day, Darcy made it clear just how precarious their position was:
"(1.) Where the commons before arose in the Marshland, Holdenshire, Holderness, Yorkswold, and the East Riding; they are now up in the West and North Ridings, Wenssedale, Coverdale, Swaldale, Mydderdale, Kyrkebieshire, Messhamshire, Langestorth, Craven, Cleveland, Dent, Sedbare, and all Richmondshire and Yorkshire. They are 60,000–40,000 harnessed—and march forward so that they were expected before this castle this day; 20,000 entered York yesterday, while great numbers were before Hull and Scarborough Castle. (2.) They have surprised many gentlemen in their own houses and taken Sir Chr. Danbie, Sir William Malorie, John Norton, Richard Norton his heir, Roger Lassells, [Robert Bowes and Richard Bowes], Sir Ralph Ellerker, jun., Sir Oswald Willesforth, Sir Thos. Metham his son and heir, and Sir Piers Vavasor, [Sir John and Sir William Constable, of Holderness], and also lord Latymer. My lord of Cumberland, on his way to Hexham, returned for safety to Skipton Castle with lord Scrope. (3.) The commons swear every man, priest and other, and charge them, on pain of death, to come to musters, where they pick out the best men. (4.) They can not be resisted for no man can trust his tenants, and few their own servants. (5.) They spare no man's goods [and say they will have the King's money wherever they find it]. [(6.) Many would gladly leave them but dare not]. (7.) The castle is wholly unfurnished and the town of Pounfrett and towns about will not aid us. The commons stop the passages for victual. (8.) We in the castle must in a few days either yield or lose our lives. (9.) [The coming of Sir Arthur to the King shall not interfere with the King's command to him by letter, as in his absence lord Darcy will put things in readiness]. "The said [Sir Arthur]" shall show there is no likelihood of vanquishing the commons with any power here."
And in yet another message: "The insurrection has so increased all over the North that we are in great danger of our lives and see no way how it can be repressed. Sir Arthur Darcy, the bearer, will make a full report. Pomfret, 17 Oct. 1536."
However, as Thomas Wriothesley noted in a letter to Thomas Cromwell, "has no great trust in Darcy". The king probably knew that Darcy sympathised with the rebel cause.
So what happened next?
Here is an extract from my book On This Day in Tudor History:
"On the night of the 19th October 1536, Thomas Maunsell, Robert Aske and the rebels of the Pilgrimage of Grace threatened an assault on Pontefract Castle and its owner, Lord Darcy. By 8 o'clock on the morning of the 20th October, the castle had surrendered to the rebels and its inhabitants – which included the likes of Lord Darcy, Sir William Gascoigne, Sir Robert Constable, Edmund Lee, Archbishop of York, and Thomas Magnus, Archdeacon of the East Riding – had sworn the rebel oath.
No force had been necessary. Their leader, Robert Aske, had written down the grievances of the common people in a letter, on the 19th, asking the lords in the castle to intercede with the King on their behalf. He then visited the castle on the 20th and rebuked the lords for failing in their duty to their people by allowing heresy in their territory, and by not making the King aware of 'the poverty of his realm and that part specially'. Lord Darcy replied that they would submit to him on the 21st, but Aske insisted on it happening that day, threatening action against the castle otherwise. Darcy surrendered.
Darcy had little choice when there were only around 300 men in the castle, and the rebels numbered in the tens of thousands, but historian M.L. Bush makes the point that the castle inmates could have tried to crush the rebels ten days earlier when the rebellion was in its infancy and its numbers much, much smaller. Bush explains that the elderly Lord Darcy actually sympathised with the rebel cause, because of his reservations about the dissolution of the monasteries and the power of Thomas Cromwell, whom he would have viewed as a heretic and an "upstart". The grievances of the rebels were justified in Darcy's opinion, but he did not want to raise a revolt himself, or take an active part in one, so he fled to Pontefract Castle and hoped that he would not need to get involved."
As R.W. Hoyle points out, Darcy then "became one of the pilgrims' captains". It appears from the primary sources that although he had joined the rebels and was sympathetic to their cause, he tried to maintain peace and order.
On 6th November, the Duke of Norfolk wrote to Darcy:
"For old love, I must warn you also of the speech of the people here who think you consented to Aske and the commons in the delivery of Pomfret. I have used myself like a true friend, thinking you delivered the castle for lack of victual and ordnance and were forced to go with the commons like many other noblemen. To declare yourself, I advise you to take, alive or dead, but alive if possible, that arrant traitor Aske, which will extinct the ill bruit and raise you in the favour of his Highness."
Darcy was being ordered to prove his loyalty to the king and prove the rumours wrong by apprehending Robert Aske. Darcy refused to do so, saying that he was an honourable man who would not betray any living man in such a way: ""alays in[y good lord] yt ever ye being a man of so [much honour] and gret [experyence] shold advice or chuss mee a man to be of eny such sortt or facion to betray or dissav eny liffyng man, French man, Scott, yea or a Turke; of my faith, to gett and wyn to me and myn heyres fowr of the best dukes landdes in Fraunce, or to be kyng ther, I wold nott do it to no liffyng person." However, he emphasised his loyalty to the king: "Will be ready to do what he can as a true knight and subject and would be ready to serve the King in his scullery the rest of his short life without a penny rent from his lands, so that these businesses were brought to a good pass."
Although Darcy, along with Aske, accepted the king's offer of a pardon and his promise of a future free Parliament to be held at York, made by proclamation in early December 1536, the two men were to come to sticky ends. Following Bigod's Rebellion in early 1537, which neither man supported, Darcy and Aske were arrested. On 15th May 1537, Lord Darcy was found guilty of treason at a trial in Westminster Hall and condemned to death. He was beheaded on Tower Hill on 30th June 1537. Robert Aske was executed by being hanged in chains on 12th July 1537 at York.
R.W. Hoyle concludes that "Darcy was poorly served by Henry and finally abandoned by him: having been taken by the pilgrims, he worked to secure their disbandment through the use of 'policy'. While there is plenty of evidence for his sympathy for the aims of the commons, his claim that 'I have served above fifty years the king's majesty and his father and should not in my old age enter rebellion with the commons' is correct."
Click here to read more about the Pilgrimage of Grace rebellion.
Notes and Sources
Photo: Pontefract Castle keep, cc-by-sa/2.0 – © Richard Croft – geograph.org.uk/p/3352841.
Hoyle, R. W.. "Darcy, Thomas, Baron Darcy of Darcy (b. in or before 1467, d. 1537)." R. W. Hoyle In Oxford Dictionary of National Biography, edited by H. C. G. Matthew and Brian Harrison. Oxford: OUP, 2004. Online ed., edited by David Cannadine, January 2008.
Letters and Papers, Foreign and Domestic, Henry VIII, Volume 11, July-December 1536, 760, 761, 768, 995, 1045.
Bush, M.L. (1996) The Pilgrimage of Grace: A Study of the Rebel Armies of October 1536, Manchester University Press.
Ridgway, Claire (2012) On This Day in Tudor History, MadeGlobal Publishing.