Posted By Claire on April 20, 2014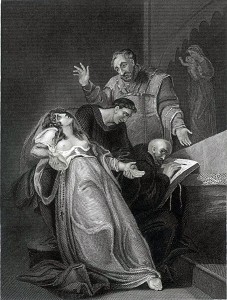 On 20th April 1534, Elizabeth Barton, a Benedictine nun who became known as 'the Nun of Kent' or 'the Holy Maid of Kent', was hanged for treason at the gallows at Tyburn along with her spiritual adviser, Father Edward Bocking; Richard Risby, Warden of the Observant Friary at Canterbury; and Hugh Rich, Warden of the Observant Friary at Richmond.
They had all been attainted of high treason in January 1534 after Barton had prophesied that if Henry proceeded with his divorce from Catherine of Aragon and married Anne Boleyn, then he would lose his kingdom within a month and "should die a villain's death".
You can read all about Elizabeth Barton in my article Elizabeth Barton, the Nun of Kent.