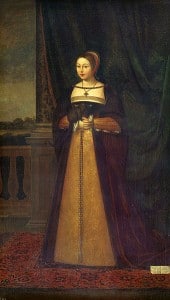 On this day in history, 18th October…
1529 – Cardinal Thomas Wolsey surrendered the Great Seal following the writ of praemunire being filed against him on the 9th October.
1541 – Death of Margaret Tudor, elder sister of Henry VIII, former consort of James IV and grandmother of Mary Queen of Scots and Henry Stuart, Lord Darnley. Margaret died of a stroke at Methven Castle. You can read more about her in my article "The Death of Margaret Tudor"
1555 – Elizabeth Tudor, the future Elizabeth I, was finally given permission to leave court and travel to her own estate at Hatfield, rather than return to house arrest at Woodstock. See "Elizabeth Returns to Hatfield" for the background on this.