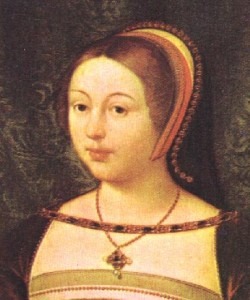 On 18th October 1541, fifty-two year old Margaret Tudor, sister of Henry VIII, former Queen of Scotland and mother of James V, died of a stroke at Methven Castle, Perthshire, Scotland.
Margaret was laid to rest at the Carthusian Priory of St John in Perth, which was later destroyed and nothing remains of it today.
You can read all about Margaret's life in an article I wrote on her back in 2010 – click here to read that now.
Also on this day in history…
1555 – Elizabeth finally received permission from her half-sister, Mary I, to leave court and travel to her own estate at Hatfield, rather than return to house arrest in Woodstock. Click here to find out more.