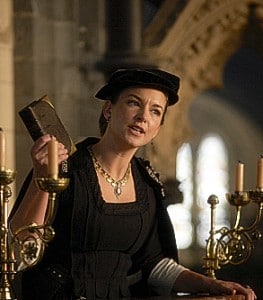 On 18th June 1546, Anne Askew, a young woman from Lincolnshire who we know now as a Protestant martyr and poet, was arraigned for heresy at London's Guildhall along with Nicholas Shaxton, Nicholas White and John Hadlam (Adlams or Adams). They were all found guilty and condemned to death. Chronicler and Windsor Herald Charles Wriothesley recorded the results of the hearing:
"The eigh tenth daie of June, 1546, were arraigned at the Guilde Certaine Hall, for heresee, Doctor Nicholas Shaxston, sometyme bishop of arraigned for Salisburie; Nicholas White, of London, gentleman; Anne Kerne[Kyme], alias Anne Askewe, gentlewoman, and wiffe of Thomas Kerne [Kyme], gentleman, of Lyncolneshire ; and John Hadlam, a of Essex, taylor ; and were this daie first indited of heresie and after arraygned on the same, and their confessed their heresies against the sacrament of the alter without any triall of a jurie, and so had judgment to be brent[burnt]."
Anne Askew was burned at the stake at Smithfield on 16th July 1546.
Click here to read all about her life, arrest and death.
Click here to read a ballad said to have been written by Anne Askew while she was imprisoned. You can also read martyrologist John Foxe's record of the examinations of Anne Askew in the online version of Acts and Monuments.
Notes and Sources
Wriothesley, Charles. A Chronicle of England during the reigns of the Tudors, from A.D. 1485 to 1559, p167