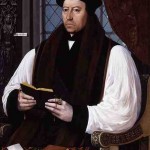 On 16th May 1536, Archbishop Thomas Cranmer, the man who had once been Anne Boleyn's family chaplain and a man she had helped rise to prominence at the English court, visited Anne at the Tower of London.
It was a visit that seemed to lift Anne's spirits and give her hope that all was not lost, for that evening she spoke of her hope of going to a "nunnery".
Click here to read more about this visit and the other events of 16th May 1536.