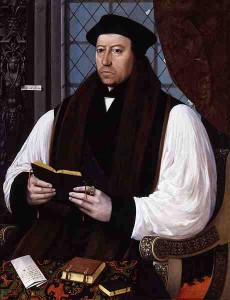 Following a visit from Thomas Cranmer, Archbishop of Canterbury, earlier in the day, Anne Boleyn told her gaoler Sir William Kingston that "she would go to "anonre" [nunnery]" and that she was "in hope of life".1 She had been found guilty and sentenced to death the previous day, but perhaps something the Archbishop said gave her hope.
We do not know what passed between Anne and Cranmer. He had been sent to the Tower of London that day to act as Anne's confessor, to hear her confession, and to obtain Anne's consent to the annulment of her marriage to Henry VIII. Anne's words to Kingston over dinner that night make me wonder if Cranmer had offered Anne some kind of deal in return for her consent. Of course, we'll never know but it does seem odd that Anne would be "in hope of life" after her condemnation.
What Anne said to Cranmer at her last confession is also unknown, but it did not change his view of her or where she was going after her death. On the day of her execution, Cranmer told his good friend Alexander Alesius "She who has been the Queen of England upon earth will to-day become a Queen in heaven".2
While Cranmer was visiting Anne Boleyn in the Tower, Jane Seymour, was receiving guests at her lodgings in Chelsea – courtiers who were there to curry favour with the woman who was sure to be their new queen. And the king? He was signing death warrants.
But what about George Boleyn, William Brereton, Henry Norris, Mark Smeaton and Francis Weston? Well, they were due to be executed the next day so they were preparing for their deaths. Click here to read how they went about this.
Notes and Sources
Letters and Papers, Foreign and Domestic, Henry VIII, Volume X, 890
Calendar of State Papers Foreign, Elizabeth, Volume 1 – 1558-1559, 1303