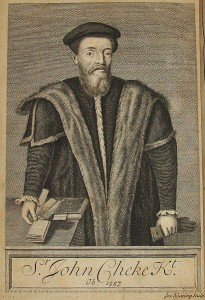 Happy birthday to Sir John Cheke who is celebrating his 497th birthday today in Heaven! Yes, on this day in 1514, the famous English scholar was born to parents Peter and Agnes Cheke (née Duffield or Dufford) in Cambridge.
Sir John Cheke is known for being the first Regius Professor of Greek at the University of Cambridge and also for being Edward VI's tutor, but here are some other facts about this learned man:-
He was educated at St John's College, Cambridge, where he also taught
His students at Cambridge included the likes of William Cecil and Roger Ascham
He was knighted on the 11th October 1551
He was made a secretary of state in June 1553 and joined Edward VI's privy council.
He was a Reformer, having adopted the doctrines of the Reformation during his time at St John's
Cheke was so good at Greek that Henry VIII granted him an exhibition
He acted as Secretary of State for Lady Jane Grey during her short reign in July 1553
Cheke was imprisoned in the Tower of London on the 27th July 1553 after Mary I seized the throne, but was released on 3rd September 1554 and granted permission to go abroad. He went to Basle, then Italy and finally to Strasburg
He returned to the Catholic Church in 1556 after he was apprehended in Antwerp in 1556, while travelling to Brussels to visit his wife, and taken to the Tower of London. Cheke was terrified of being burnt at the stake as a heretic.
It is thought that the shame of denying his true faith hastened his death.
He died on the 13th September 1557 in Wood Street, London, leaving his wife, Mary Hill, and three sons: John, Edward and Henry.
You can get an idea of what an impressive scholar Sir John Cheke was by reading the article at Luminarium.org (see http://www.luminarium.org/encyclopedia/cheke.htm, which also lists his works, Happy Birthday to a very learned man!
By the way, Sir John Cheke was part of the Cambridge 'set' which included the likes of William Grindal, Roger Ascham, John Dee, William Cecil and Matthew Parker, the future Archbishop of Canterbury. Methinks that Anne Boleyn knew what she was doing when she entrusted Elizabeth's future to Matthew Parker on the 26th April 1536 because these men came to be people who Elizabeth relied on before and during her reign. See http://www.elizabethfiles.com/the-cambridge-connections/3853/ for further discussion on this.