Posted By Claire on January 15, 2016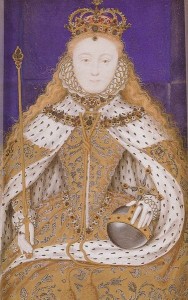 On this day in history, 15th January 1559, Elizabeth Tudor, daughter of Henry VIII and his second wife Anne Boleyn, was crowned queen by Owen Oglethorpe, Bishop of Carlisle, at Westminster Abbey.
Elizabeth was just twenty-five years old and would be the longest reigning Tudor monarch, ruling England for over forty-four years. She has gone down in history as "The Virgin Queen", "Gloriana" and "Good Queen Bess", although historians now question whether her reign really was the "golden age" it was once known as.
Here are links to articles about Elizabeth I's coronation: