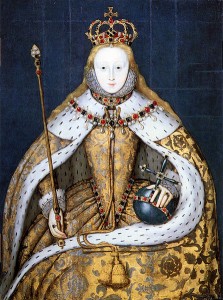 On this day in history, 15th January 1559, Queen Elizabeth I, daughter of Henry VIII and Anne Boleyn, was crowned queen by Owen Oglethorpe, Bishop of Carlisle, at Westminster Abbey.
Diarist Henry Machyn recorded:
"The xv day was the crounasyon [coronation] of quen Elsabeth at Westmynster abbay, and theyr all the trumpettes, and knyghtes, and lordes, and haroldes [heralds] of armes in ther cotte armurs; and after all they in ther skarlett, and all the bysshopes in skarlett, and the Quen, and all the fottmen waytyng a-pone the quene, to Westmynster hall; ther mett all the byshoppes, and all the chapell with iij crosses, and in ther copes, the byshoppes mytered, and syngyng Salve festa dyes; and all the strett led with gravell, and bluw [blue] cloth unto the abbay, and raylled on evere syd, and so to the abbay to masse, and ther her grasse [grace] was crounyd [crowned]; and evere offeser rede [ready] against she shuld go to dener [dinner] to Westmynster hall, and evere offeser to take ys offes at serves a-pone ther landes; and my lord mare and the althermen [aldermen]."
In the account of Elizabeth I's coronation procession in Raphael Holinshed's Chronicles of England, Scotland, and Ireland is a transcript of a prayer that Elizabeth was said to have uttered at the Tower of London before her coronation procession the previous day, to prepare herself for the procession and her coronation. The queen lifted her eyes to heaven and said:
"O Lord almightie and euerlasting God, I giue thee most hartie thanks, that thou hast beene so mercifull vnto me, as to spare me to behold this ioifull [joyful] daie. And I acknowledge that thou hast delt as woonderfullie and as mercifullie with me, as thou diddest with thy true and faithfull seruant Daniell thy prophet; whome thou deliueredst out of the den from the crueltie of the greedie and raging lions: euen so was I ouerwhelmed, and onlie by thee deliuered. To thee therefore onlie be thankes, honor, and praise, for euer: Amen."
Long live the Queen!
Here are links to more articles about Elizabeth I's coronation:
Sources
'Diary: 1559 (Jan – Jun)', in The Diary of Henry Machyn, Citizen and Merchant-Taylor of London, 1550-1563, ed. J G Nichols (London, 1848), pp. 184-201. British History Online http://www.british-history.ac.uk/camden-record-soc/vol42/pp184-201 [accessed 26 December 2016].
Holinshed 1587 edition, Volume 6, p. 1179, The peaceable and prosperous regiment of blessed Queene Elisabeth, second daughter to king Henrie the eight – read at http://english.nsms.ox.ac.uk/holinshed/texts.php?text1=1587_8797