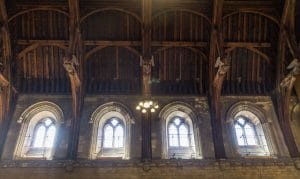 On 12th May 1536, Mark Smeaton, Sir Henry Norris, Sir Francis Weston and William Brereton were escorted by barge from the Tower of London to Westminster by Sir William Kingston, Constable of the Tower of London, for their trial.
At Westminster Hall, the four men were brought before a special commission of oyer and terminer and arraigned for high treason. Queen Anne Boleyn and George Boleyn, Lord Rochford, were to be tried separately because they were members of the aristocracy and so were entitled to be tried in the court of the Lord High Steward of England by a jury of their peers.
As I say in my book, The Fall of Anne Boleyn: A Countdown, "The men's hearts must have sunk into their shoes when they saw the jury. Any hopes they had held of being acquitted and released must have been dashed as soon as they saw the men sitting in judgement on them. Although the jury included Thomas Boleyn, Earl of Wiltshire, a man who would certainly not benefit from these men being found guilty when it would prejudice the trial of his son and daughter, it also included men who owed Cromwell or the King a favour and those who would love to see the Boleyn faction spectacularly brought down. There were no two ways about it; the jury was a hostile one."
You can read more about this hostile jury and what happened at the trial in my article 4 Men and a Trial.
Also on 12th May 1536, a patent was issued appointing Thomas Howard, 3rd Duke of Norfolk, as Lord High Steward of England for the forthcoming trials of his niece and nephew, Queen Anne Boleyn and George Boleyn, Lord Rochford. Click here to read more.
Picture: Westminster Hall's windows and roof © Copyright Christine Matthews and licensed for reuse under Creative Commons Licence, Geograph.org.uk.