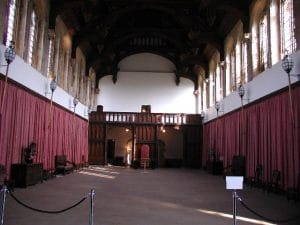 On this day in history, Thursday 11th May 1536, the Grand Jury of Kent met at Deptford.
The jurors, who were presided over by Chief Justice John Baldwin and six of his colleagues, ruled that there was sufficient evidence to send Queen Anne Boleyn, Sir Henry Norris, William Brereton, Sir Francis Weston, Mark Smeaton and George Boleyn, Lord Rochford, to trial for crimes allegedly committed at Greenwich Palace, East Greenwich, and Eltham Palace.
The Grand Jury of Middlesex had already ruled, on the previous day, that the queen and the men would go to trial for crimes allegedly committed at Whitehall and Hampton Court Palace.
Also, on this day in history, 11th May 1537, two Carthusian monks from the London Charterhouse, Blessed John Rochester and Blessed James Walworth, were hanged in chains from the battlements of York. They had been tried in York for treason for denying the king's supremacy following the Pilgrimage of Grace rebellion in autumn 1537. You can read more about the eighteen Carthusian monks who were put to death between 1535 and 1540 in a previous article – click here.
Picture: Medieval Great Hall at Eltham Palace, © Copyright David Hatch and licensed for reuse under this Creative Commons Licence, geograph.org.uk.