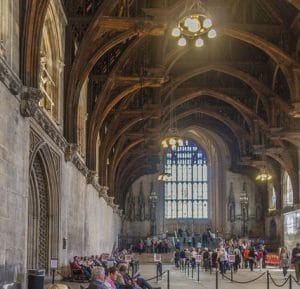 On this day in history, 12th May 1536, Sir Henry Norris, Sir Francis Weston, William Brereton and Mark Smeaton were taken by barge from the Tower of London to Westminster and tried in Westminster Hall for high treason.
The four men were tried by a special commission of oyer and terminer and any hopes of acquittal must have been dashed when they saw who sat on this commission. It was certainly a hostile jury.
Click here to read about the members of the jury and what happened at this trial.
On the same day, a patent was issued appointing Thomas Howard, 3rd Duke of Norfolk, as Lord High Steward of England for the forthcoming trials of his niece and nephew, Queen Anne Boleyn and George Boleyn, Lord Rochford. Click here to read more.
Picture: Crop of Westminster Hall © Copyright Christine Matthews and licensed for reuse under this Creative Commons Licence, Geograph.org.uk.