Posted By Claire on June 11, 2013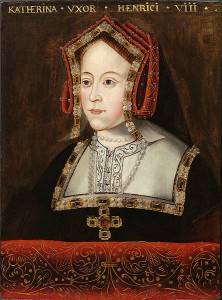 On the 11th June 1509 the 17 year-old King Henry VIII married the 23 year-old Catherine of Aragon, widow of Arthur Prince of Wales, Henry's brother, in the Queen's closet at Greenwich Palace. It was a private ceremony with just two witnesses, Lord Steward Shrewsbury and William Thomas, a groom of the privy chamber, so was nothing like Catherine's previous wedding to Arthur which took place at St Paul's Cathedral and is said to be one of the most expensive royal weddings in history. The wedding was probably low key because the couple's joint coronation was taking place less than two weeks later, and that would be a lavish affair.
You can read more about the ceremony in my article 11 June 1509 – Henry VIII Marries Catherine of Aragon.
Here is a YouTube video of David Starkey talking about the early years of Henry VIII and Catherine of Aragon's marriage: