11 June 1509 – Henry VIII Marries Catherine of Aragon
Posted By Claire on June 11, 2011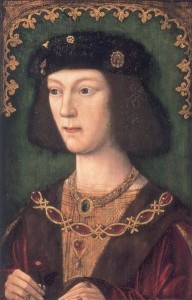 On this day in history, 11th June 1509, the new King, Henry VIII, married his brother's widow, Catherine of Aragon, at Greenwich Palace.
Catherine of Aragon's biographer, Giles Tremlett, points out that this was not a huge public affair like Catherine's first marriage and that "there was something almost clandestine about the way Catherine married her new husband"1. Instead of marrying at St Paul's with a crowd of spectators, the 23 year old Catherine and 17 year old Henry had a private wedding in one of the Queen's Closets at the Palace, possibly in the Palace's Chapel Royal.
The vows would were based on the treaty between Henry VII and Catherine's parents, Isabel I of Castile and Ferdinand II of Aragon, after the death of Prince Arthur when Catherine was promised to the 11 year old Prince Henry, Duke of York. According to the Calendar of State Papers, Spain, Henry was asked:
" 'Most illustrious Prince, is it your will to fulfil the treaty of marriage concluded by your father, the late King of England, and the parents of the Princess of Wales, the King and Queen of Spain; and, as the Pope has dispensed with this marriage, to take the Princess who is here present for your lawful wife?' "2
And Catherine would have been asked the equivalent question. Both would have replied "Volo[I will]"3.
Although the wedding was low key, preparations were being made for a lavish joint coronation which was due to take place on the 24th June, the feast day of St John the Baptist and "by their reckoning, Midsummer Day". That day would be their day of triumph and celebration, after all, it was a new era and this golden Renaissance couple had their whole future ahead of them as King and Queen of England.
You can read more about how the marriage came about in my article "The Marriage of Henry VIII and Catherine of Aragon".
Notes and Sources
Catherine of Aragon: Henry's Spanish Queen, Giles Tremlett, UK Edition, p149 in Chapter 18 "Married Again"
Calendar of State Papers, Spain, Volume 2, 17
Tremlett, p149
Six Wives: The Queens of Henry VIII, David Starkey, Chapter 22 "Queen"