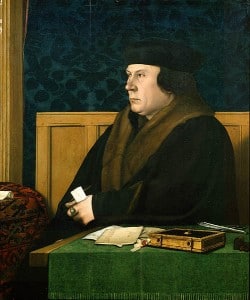 At 3pm on the 10th June 1540 Thomas Cromwell, the Earl of Essex and Henry VIII's right-hand man, was in the council chamber at Westminster when the door swung open and the Captain of the Guard strode into the room with a royal warrant for Cromwell's arrest on a charge of treason.
The French Ambassador, Charles de Marillac, reported Cromwell's arrest in a letter dated 23rd June:-
"As soon as the Captain of the Guard declared his charge to make him prisoner, Cromwell in a rage cast his bonnet on the ground, saying to the duke of Norfolk and others of the Privy Council assembled there that this was the reward of his services, and that he appealed to their consciences as to whether he was a traitor; but since he was treated thus he renounced all pardon, as he had never thought to have offended, and only asked the King not to make him languish long.
Thereupon some said he was a traitor, others that he should be judged according to the laws he had made, which were so sanguinary that often words spoken inadvertently with good intention had been constituted high treason. The duke of Norfolk having reproached him with some "villennyes" done by him, snatched off the order of St. George which he bore on his neck, and the Admiral, to show himself as great an enemy in adversity as he had been thought a friend in prosperity, untied the Garter. Then, by a door which opens upon the water, he was put in a boat and taken to the Tower without the people of this town suspecting it until they saw all the King's archers under Mr. Cheyney at the door of the prisoner's house, where they made an inventory of his goods, which were not of such value as people thought, although too much for a "compaignon de telle estoffe." The money was 7,000l. st., equal to 28,000 crs., and the silver plate, including crosses, chalices, and other spoils of the Church might be as much more. These movables were before night taken to the King's treasury—a sign that they will not be restored."1
The Spanish Chronicle also reported Thomas Cromwell's arrest:-
"As usual, they all went to the Parliament at Westminster, and when they came out and were going to the palace to dinner, the wind blew off the Secretary's bonnet, and it fell on the ground. The custom of the country is, when a gentleman loses his bonnet, for all those who are with him to doff theirs, but on this occasion, when Cromwell's bonnet blew off, all the other gentlemen kept theirs on their heads, which being noticed by him, he said, " A high wind indeed must it have been to blow my bonnet off and keep all yours on." They pretended not to hear what he said, and Cromwell took it for a bad omen.
They went to the palace and dined, and all the while they were dining the gentlemen did not converse with the Secretary, as they were wont to do, and as soon as they had finished all the gentlemen went to the Council-chamber. It was the Secretary's habit always after dinner to go close up to a window to hear the petitioners ; and when the gentlemen had gone to the Council-chamber, the Secretary remained at his window as usual for about an hour, and then joined the other gentlemen ; and finding them all seated, he said, "You were in a great hurry, gentlemen, to get seated." The chair where he was in the habit of sitting was vacant, and the gentlemen made no answer to his remark ; but just as he was going to sit down the Duke of Norfolk said, " Cromwell, do not sit there ; that is no place for thee. Traitors do not sit amongst gentlemen." He answered, " I am not a traitor ; " and with that the captain of the guard came in and took him by the arm, and said, " I arrest you." " What for? " said he. " That you will learn elsewhere/" answered the captain. He then asked to see the King, as he wished to speak with him ; and he was told that it was not the time now, and was reminded that it was he who passed the law. God's judgment ! for he was the first to enact that the King should speak to no one who was accused of treason.
Then the Duke of Norfolk rose and said, " Stop, captain ; traitors must not wear the Garter," and he took it off of him ; and then six halberdiers took him by a back door to a boat which the captain had waiting, and he was carried to the Tower ; and the Council sent a gentleman, who was said to be Knyvett, to go to his (Cromwell's) house, with fifty halberdiers, and take an inventory of everything they might find, and hold it for the King.' "2
John Schofield, author of "The Rise and Fall of Thomas Cromwell: Henry VIII's Most Faithful Servant", writes of how "despite the lure of Catherine [Howard] and her faction, Henry drew back from the destruction of Cromwell"3 because he "knew what an outstanding chief minister he had"4 and that nobody measured up to Cromwell. However, it was clear in early June 1540 that "Cromwell was not about to 'relieve the king' by ridding him of Anne [of Cleves] and giving him Catherine"5 and this was reported to the King by Thomas Wriothesley who had tackled Cromwell about the issue. Cromwell knew that the King wanted to replace Anne with his new flame, the Duke of Norfolk's niece, "but he would oppose or stall on Anne's divorce"6 while he searched frantically "for something that would convict his rivals of illicit links with Rome"7, for proof that they were Papists. Cromwell knew that to back the divorce was "to preside over the effective collapse of the Reformation"8 and all that he had worked for.
Thomas Cromwell was not stupid, he realised that he was in danger and Schofield points out that he had already begun to set his affairs in order, making sure that his friends, dependents and servants were all well provided for. He knew that it would come to Henry VIII choosing between him and Gardner/Norfolk, between Anne and Catherine, he knew his master.
While some people feel that Thomas Cromwell's fall and execution were the result of karma, for Cromwell's involvement in the fall of Anne Boleyn, I simply cannot agree that Cromwell deserved his fate and I don't feel that he was solely responsible for Anne's death. He was a servant of the King, he did the King's will, he was an instrument, a tool, and that's that. Just my opinion, but nobody deserves the death that Cromwell suffered: a botched execution.
Notes and Sources
LP xv. 804
Chronicle of King Henry VIII. of England: Being a Contemporary Record of Some of the Principal Events of the Reigns of Henry VIII and Edward VI (The Spanish Chronicle), p98-99
The Rise & Fall of Thomas Cromwell: Henry VIII's Most Faithful Servant, John Schofield, 2008 hardback edition published by the History Press, p255
Ibid.
Ibid., p256
Ibid.
Ibid.
Ibid., p253