This day in history, the 7th June 1520, was the first day of the historic meeting between Henry VIII and Francis I of France between the English stronghold of Guînes and the French town of Ardres, on a piece of land referred to as The Field of Cloth of Gold.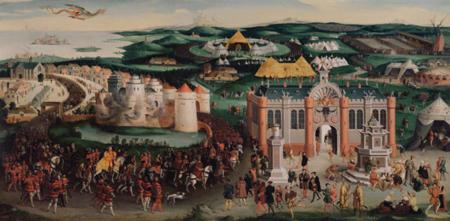 The British Library's catalogue, "Henry VIII: Man and Monarch"1, talks of how Henry VIII and his queen, Catherine of Aragon, were accompanied by over 5,000 people and David Loades, in "Henry VIII", writes of how although the meeting was supposed to solidify the Treaty of London between the two countries "the omens for success were not good" and that "the meeting was, in effect, an exercise in competitive display, and Wolsey spared no expense in making a show"2.
So, just how lavish a show was the Field of Cloth of Gold? Here are some details:-
There was "a forest of exotic pavilions"3 to house the English Court
There was "a wooden and canvas palace"4 to act as the King's Chamber
Courtiers were dressed in "velvet, satin and cloth of gold"5
Rich furnishings were used for the state apartments
6,000 men were employed in building the English quarters
There were two wine fountains flowing with red wine
There was plenty of entertainment – jousts, singing from the French and English choirs, banquets, wrestling and archery displays.
To get an idea of the scale of the temporary palace constructed from timber and canvas, simply look at the famous painting. If you have access to the British Library's "Henry VIII: Man and Monarch", you can also see various designs for tents for the Field of Cloth of Gold, which "reveal the impressive size and splendour of the temporary accommodation erected for Henry VIII's court6". The designs feature cloth decorated with gold, fringing of the Tudor livery colours, fleurs-de-lis designs on some of the roofs, some with candelabra and friezes bearing the Royal mottoes, others with Tudor roses and "King's beasts", e.g. lions, greyhounds, dragons etc., on tent poles. They are quite amazing.
You can see an interesting video on The Field of Cloth of Gold at http://youtu.be/7bzulxjxXc4. Those of you who need a bit of humour added to your day may enjoy this video from Horrible Histories – http://youtu.be/J420LMmOMaE. Enjoy!
Notes and Sources
Henry VIII: Man and Monarch, edited by Susan Doran, British Library
Henry VIII, David Loades, p112
Ibid., p113
Ibid.
Ibid.
Henry VIII: Man and Monarch, p94