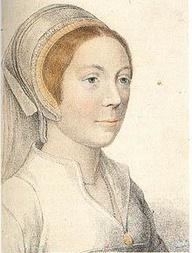 On this day in history, 11th February 1542, the bill of attainder against Queen Catherine Howard and Jane Boleyn, Lady Rochford, which had been introduced into the House of Lords on 21st January 1542, received royal assent.
According to the bill of attainder, Catherine and Jane were guilty of high treason and could be punished, i.e. executed, without being tried.
An act "for due process to be had in high treason in cases of lunacy or madness" also received royal assent in the House of Lords on this day in 1542 and this legislation meant that "a person becoming insane after the supposed commission of treason, might be tried; or losing his rational faculties after attainder, might be executed". This meant that Jane Boleyn, Lady Rochford, who had displayed "symptoms of madness" following her arrest in 1541, could be executed even if she was still deemed to be insane. Madness could not save Lady Rochford from Henry VIII's wrath.
The two women were executed by beheading on 13th February 1542.
Also on this day in history…
1466 – Birth of Elizabeth of York, queen consort of King Henry VII and mother of Henry VIII. Elizabeth also died on this day in history, in 1503. Click here to read more.
1531 – Convocation granted Henry VIII the title of "singular protector, supreme lord, and even, so far as the law of Christ allows, supreme head of the English church and clergy". Click here to read more.
Notes and Sources
Letters and Papers, Foreign and Domestic, Henry VIII, Volume XVII (LP xvii), 28 ii Acts printed in the Statutes at Large, but not entered on the Parliament Roll, C21.
LP xvii. 28 xv c. 20, o.n. 33 of the year 37 Hen. VIII.
ed. Wharton, Thomas I., Esq (1842) The Law Library, Volume 38, John S. Littell, p.230.