Posted By Claire on February 13, 2017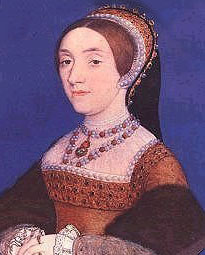 On this day in history, 13th February 1542, Queen Catherine Howard and her lady-in-waiting, Jane Boleyn, Lady Rochford, "died repentaunt" at the executioner's hands within the confines of the Tower of London.
Catherine Howard was the fifth wife of King Henry VIII, having married him on 28th July 1540, and Lady Rochford was the widow of George Boleyn, brother of Queen Anne Boleyn. The two women had been found guilty of treason by a bill of attainder and condemned to death. Catherine was found to have led a "dissolute life previous to her marriage" and then Lady Rochford had helped her to have secret meetings with Thomas Culpeper, a member of the King's Privy Chamber, while she was married to the King.