Posted By Claire on February 10, 2017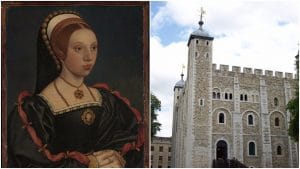 On 10th February 1542, Queen Catherine Howard was taken from Syon House, where she'd been kept since November 1541, to the Tower of London in preparation for her execution.
Lady Rochford (Jane Boleyn), who was accused of helping Catherine with her treachery, had been taken to the Tower the previous night, having been nursed back to health from "symptoms of madness". She had been nursed at Russell House on the Strand, the London residence of Sir John Russell, Lord Admiral, and his wife Anne, under the supervision of the King's own doctors.