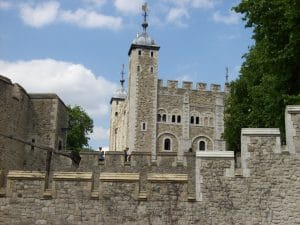 According to chronicler Charles Wriothesley, it was on this day in history, 9th February 1542, that Jane Boleyn, Lady Rochford, widow of George Boleyn and sister-in-law of the late Queen Anne Boleyn, was taken to the Tower of London:
"This yeare, the 9th of Februarye, a preist, being parson in the Towre of London, hanged himselfe withe one of his garters. And the same night the Lady Rochford was had to the Tower."
Lady Rochford was to be joined in the Tower the following day by her former mistress, Queen Catherine Howard. She had been accused of helping the queen with her treachery, i.e. helping her to meet her alleged lover, Thomas Culpeper, and the two women had been found guilty of treason by an act of attainder and sentenced to death. Following her arrest, Lady Rochford had been taken ill with "symptoms of madness" and had been cared for at the home of Sir John Russell, Lord Admiral, on the Strand. She was obviously deemed fit enough to travel to the Tower by 9th February.
Notes and Sources
Wriothesley, Charles (1875 edition) A chronicle of England during the reigns of the Tudors, from A.D. 1485 to 1559, Volume 1, Camden Society, p. 133.
Letters and Papers, Foreign and Domestic, Henry VIII, Volume XVI, 1401.