11 April 1533 – Anne Boleyn is Accorded Royal Honours and Cranmer works on the Annulment
Posted By Claire on April 11, 2014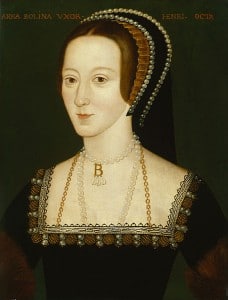 On 11th April 1533 Henry VIII informed his Council that Anne was his rightful wife and Queen and that she should be accorded with royal honours.1
On the same day Thomas Cranmer, the newly consecrated Archbishop of Canterbury, wrote to the King "Beseeching the King very humbly to allow him to determine his great cause of matrimony, as belongs to the Archbishop's spiritual office, as much bruit exists among the common people on the subject".2 The King replied the following day:
"Received on the 12th April his letters dated Lambeth, 11th April desiring leave to determine his great cause of matrimony. Cannot be displeased with Cranmer's zeal for justice and for the quieting of the kingdom ; and although Henry is his King, and recognises no superior on earth, yet as Cranmer is the principal minister "of our spiritual jurisdiction," and is so in the fear of God, cannot refuse his request. Gives him licence accordingly by these letters under the sign manual, sealed with the King's seal."3
This gave Cranmer the official permission he needed to open a special trial into the annulment proceedings, which he did at Dunstable Priory, Bedfordshire. On 23rd May 1533, the court declared Henry's marriage to Catherine "to be against the law of God" and dissolved it.4 Henry's marriage to Anne Boleyn was declared valid on 28th May 1533, just in time for Anne's coronation celebrations, which began the next day.
11th April 1533, the date when Anne Boleyn was officially recognised as Queen, is recorded in the amazing painting by Hans Holbein the Younger, The Ambassadors, which portrays two ambassadors: Jean de Dinteville, maître d'hôtel to Francis I of France, and George de Selve, Bishop of Lavaur. Those who have analysed the painting have found the date marked on the celestial globe, the quadrant and the cylinder sundial. You can read more about this painting in the following articles:
Notes and Sources
Ives, Eric (2004) The Life and Death of Anne Boleyn, p234
LP vi. 327
Ibid., 332
LP vi. 525, 529