10 June 1540 – To the Tower for Thomas Cromwell!
Posted By Claire on June 10, 2016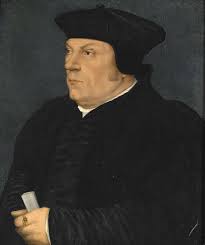 At 3pm on 10th June 1540, Thomas Cromwell, Earl of Essex, Lord Great Chamberlain, Lord Privy Seal and Henry VIII's former right-hand man, was arrested during a Privy Council meeting at Westminster. Cromwell was then taken to the Tower of London and imprisoned there until his execution on 28th July 1540, the day that Henry VIII married his fifth wife, Catherine Howard. He was executed for the crimes of corruption, heresy and treason.
You can click here to read more about his arrest and you can click here to read about his rise and fall at Henry VIII's court.
Also on this day in history, 10th June 1537, Blessed Thomas Green and Blessed Walter Pierson, Carthusian monks from London Charterhouse, died in Newgate Prison from starvation. They were two out of nine monks who were purposely starved to death for refusing to accept the royal supremacy. Others were hanged, drawn and quartered. Between 1535 and 1536, eighteen Carthusian monks were executed and you can read more about them in my article 19 June 1535 – 3 Carthusian Monks Hanged, Drawn and Quartered. All 18 have been recognised by the Catholic Church as martyrs.
Picture: Thomas Cromwell after Hans Holbein the Younger.