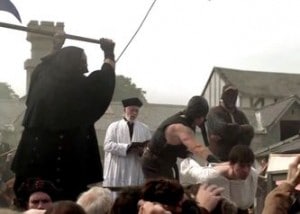 Following their conviction for treason at a trial at London's Guildhall on 1st December, Thomas Culpeper, Gentleman of the Privy Chamber, and Francis Dereham, secretary to Queen Catherine Howard, fifth wife of King Henry VIII, were executed at Tyburn on 10th December 1541. Culpeper was beheaded but Dereham had to face the brutal traitor's death of being hanged, drawn and quartered.
You can read more about Culpeper and Dereham in my article from last year – click here.
Rest in Peace Thomas Culpeper and Francis Dereham.