1 September 1532 – Henry VIII gives Anne Boleyn an important title
Posted By Claire on September 1, 2017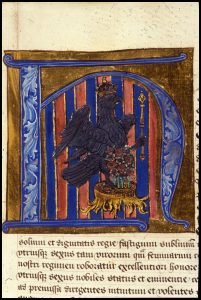 On this day in history, 1st September 1532, in a special ceremony at Windsor Castle, King Henry VIII elevated his sweetheart, Anne Boleyn, daughter of the Earl of Wiltshire and Ormonde, to the title of Marquess (or Marquis) of Pembroke.
This was hugely significant because the title was given to Anne in her own right and it was granted to Anne and her heirs male, whether legitimate or not. The title was also a new one and had been created by the king for the woman he was determined would soon be his wife. Of course, Pembroke was the birthplace of the king's father, Henry VII, the founder of the Tudor dynasty, and the king's great uncle, Jasper Tudor, had been Earl of Pembroke, so there was significance there too.
The title came with lands worth over £1,000 (over £300,000 in today's money) per year, so Anne Boleyn was now a wealthy peer in her own right, a fitting queen-in-waiting and consort for the forthcoming trip Henry VIII had planned for them to Calais to meet King Francis I of France.
You can read more about the ceremony and also the lands granted to Anne in my article from last year – click here – but I wanted to share with you these images of the patents granted to Anne as Marquess of Pembroke because the document is stunning. It is from the Harleain Manuscripts (Harley MS 303) in the British Library and the British Library describes the document as being written in Latin in a Gothic script decorated with a large "historiated initial 'H'(enricus) enclosing the imperial falcon of Anne Boleyn against a background of the royal colours" and "followed by display script in gold". It goes on to say that "The parchment, silk, and gold of the document cost 18 shillings, equivalent to a month's wages for a craftsman" – wow!
You can click on the images to see larger versions.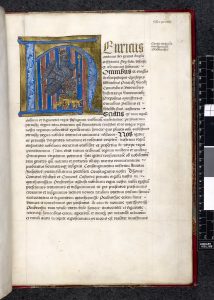 The badge that Anne Boleyn used from this time and until her death in May 1536 was that of a crowned white falcon holding a sceptre and standing on a tree stump from which came red and white roses – click here to read more about Anne Boleyn's badge and its symbolism.
Image Details
Image 1 and 3 – Detail of a historiated initial 'H'(enricus) enclosing the imperial falcon of Anne Boleyn against a background of the royal colours, Harley 303 f. 1 Imperial falcon, British Library, public domain.
Image 2 – Patents granted to Anne Boleyn as Marquess of Pembroke, Harley 303 f. 1, British Library, public domain. See http://www.bl.uk/catalogues/illuminatedmanuscripts/record.asp?MSID=4058&CollID=8&NStart=303 for more information on the document.