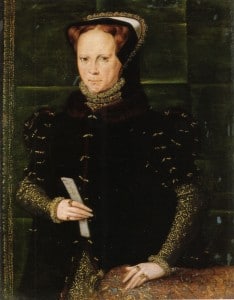 On Sunday 1st October 1553, Mary, daughter of Henry VIII and Catherine of Aragon, was crowned Queen Mary I at Westminster Abbey by Stephen Gardiner, the Bishop of Winchester.
Here is a primary source account of her coronation:
"Memorandum, the first dale of October, 1553, was quene Mary crowned; that daie she cam first by water to the old palice and ther tarryed tyll about xj. of the clocke, and then went to the churche on foot apon blew clothe being rayled on every syde; she was in a gown of blew velvett, lyned with pouderyd armyn, having the same cyrclet on hir hedd with the whiche she cam thorough London the daye before. She was ledd betwen one bushope and (blank), and many bishopes in their myters and crosiars before hir.
In the churche, before she was anoynted, the lorde chauncellour went to the foure corners of the no . . (?) and cried, " Yf eny man will or can alledge eny cause whie quene Mary shoulde not be crowned, let theym speke now:" and then the people in every place of the churche cryed, "Quene Mary! quene Mary!" Then the bushope of Winchester, being lorde chauncellour, proclaymed the quenes pardon, wherin was excepted all prysoners in the Tower, the Flet [Fleet], certayn in the Mershallsey [Marshalsea], and suche as had eny comandement to kepe the house, and certayn other.
Note, she was ledde iiij. or v. tymes on the alter, with so many and sondery cerymonyes in anoynting, crowning, and other olde customes, that it was past iij. almost iiij. of the clocke at night or ever she cam from the church agayn. And as she cam homeward ther was borne before her iij. swordes shethed, and one naked. She was ledd likewise betwen the old bushope of Dyrom [Durham, i.e. Cuthbert Tunstall] and (blank), having in hir hande a cepter of golde, and in hir other hande a ball of golde, which she twirled and tourned in hir hande as she came homewarde. She wore a chrymesyn vellvet gown, and a crown on hir hedd, every rely [earl?] and contesse following in crymesyn vellvet with crownets on ther hedds of gold. When she was enteryd in Westminster hall ther was ill scramble for the cloth and rayles; then was ther the wast meat cast out of the ketchen made under the pallaice wall with bordes, which was very muche of all kinde of meat. And when they had don casting out meat ther was no lesse scrambling for the ketchyn yt self, every man that wolde plucking downe the hordes therof, and carying yt away, that yt might welbe callyd a wast indedde."
Tip: If you read it out loud then it makes more sense.
I love the details in this account of the "waste meat" from the coronation banquet being "cast out of the kitchen" for people to take and enjoy.
If you want to read a modern day English account of Mary's coronation then read my article 1 October 1553 – Coronation of Mary I.
Notes and Sources
The chronicle of Queen Jane, and of two years of Queen Mary, and especially of the rebellion of Sir Thomas Wyat, written by a resident in the Tower of London; edited, with illustrative documents and notes by John Gough Nichols (1850), p30-32