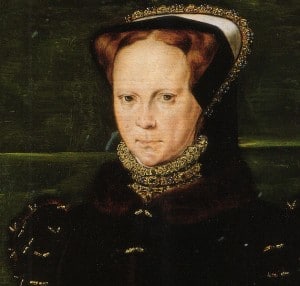 On Sunday 1st October 1553, Mary I was crowned Queen at Westminster Abbey by Stephen Gardiner, the Bishop of Winchester.
At 11am, Mary processed into the Abbey, dressed traditionally, as a male monarch would be, in the usual state robes of crimson velvet. Before her processed the Bishop of Winchester, gentlemen, knights and councillors, the Earl of Arundel carrying the ball and sceptre, the Marquis of Winchester carrying the orb and the Duke of Norfolk carrying the crown. A canopy carried by the barons of the Cinque Ports was carried over the Queen as she processed along a raised walkway to the coronation chair.
Gardiner opened the ceremony with the following address:-
"Sirs, Here present is Mary, rightful and undoubted inheritrix by the Laws of God and man to the Crown and Royal Dignity of this realm of England, France and Ireland, whereupon you shall understand that this day is appointed by all the peers of this land for the consecration, injunction and coronation of the said most excellent Princess Mary; will you serve at the time and give your wills and assent to the same consecration, unction and coronation?"
To which the congregation replied: "Yea, yea, yeah! God save Queen Mary!"
As was usual for the monarch, Mary then prostrated herself before the altar on a velvet cushion while prayers were said over her. Afterwards, the Bishop of Chichester, George Day, preached a sermon on the obedience owed to a monarch, and Mary made her oaths before lying prostrate once again in front of the high altar while the Abbey choir sang Veni Creator Spiritus. Accompanied by her ladies, Mary then went to change in preparation for her anointing. Dressed in a petticoat of purple velvet, she lay in front of the altar and was anointed with holy oil on her shoulders, breast, forehead and temples by Gardiner. Once again dressed in her robes of state, Mary then received the sword, the sceptre and orbs, and was crowned with the crown of Edward the Confessor, the Imperial Crown and then a specially custom-made crown. The ermine-furred crimson mantle was then put about her shoulders, and she sat in the coronation chair as nobles paid homage to their new queen.
Finally at 4pm, Mary walked out of Westminster Abbey, processing to Westminster Hall for the coronation banquet, where she was joined by her half-sister, Elizabeth, and her former step-mother, Anne of Cleves. There was much to celebrate. Mary was now the recognised queen of the realm, the first crowned queen regnant of England – Mary, Queen Mary I.
Extract taken from On This Day in Tudor History by Claire Ridgway.
You may be interested in reading these articles on Mary I:
Notes and Sources
Whitelock, Anna (2010) Mary Tudor: Princess, Bastard, Queen, p209-211