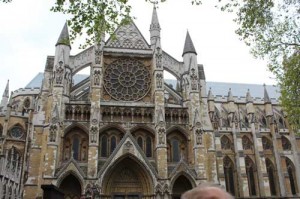 On 1st June 1533, Whitsun, Henry VIII's second wife, Anne Boleyn, was crowned queen at Westminster Abbey by her good friend Archbishop Thomas Cranmer.
Anne Boleyn was about six months pregnant and had been married to the king since their official, but secret, ceremony on 25th January 1533. Their marriage had been proclaimed valid just four days before the coronation and this coronation ceremony was the couple's moment of triumph after the years of waiting and legal wranglings.
Anne must have been so tired after the procession the previous day, but she still managed to make it through the long coronation service and banquet of around 80 dishes.
Click here to read more about Anne's special day.