1 December 1530 – The death of Margaret of Austria
Posted By Claire on December 1, 2020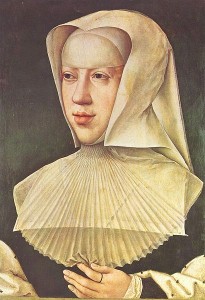 On 1st December 1530, fifty-year-old Margaret of Austria, Princess of Asturias and Duchess of Savoy, died at her home at Mechelen. She was buried alongside her second husband, Philibert II, Duke of Savoy, in their mausoleum at Bourg-en-Bresse.
Margaret was an important woman. She was the daughter of Maximilian of Austria and Mary of Burgundy, the wife of John, Prince of Asturias, and then Philibert II, Duke of Savoy, and served as Governor of the Habsburg Netherlands.
But why am I writing about Margaret of Austria on a blog dedicated to Anne Boleyn?
Well, that's because a young Anne Boleyn was sent to serve at Margaret's court in the summer of 1513, remaining with Margaret for just over a year. Here are a couple of articles related to Anne Boleyn and Margaret of Austria: