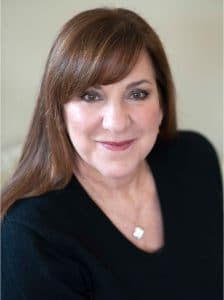 I am honoured to welcome historical novelist and my good friend Sandra Vasoli to the Anne Boleyn Files today on day 3 of the book tour for Truth Endures, her second 'Je Anne Boleyn' novel.
MadeGlobal Publishing is offering a paperback set of Je Anne Boleyn books (Struck with the Dart of Love and Truth Endures) to one lucky Anne Boleyn Files follower. All you have to do is leave a comment below saying what you found interesting about Sandi's video by the end of 13th September 2016. One comment will be picked at random on 14th and the commenter contacted by email. Good luck!
Sandi has made a special video for us about her novels. She talks about why it was so difficult for her to write Truth Endures, which focuses on the latter portion of Anne's life, and the effect that she feels grief may have had on the royal couple. She also shares an extract from the book. Thank you Sandi!
https://youtu.be/8QYuTgXk_hc
You can catch up with Sandi, and enter more giveaways, at the other stops on her book tour: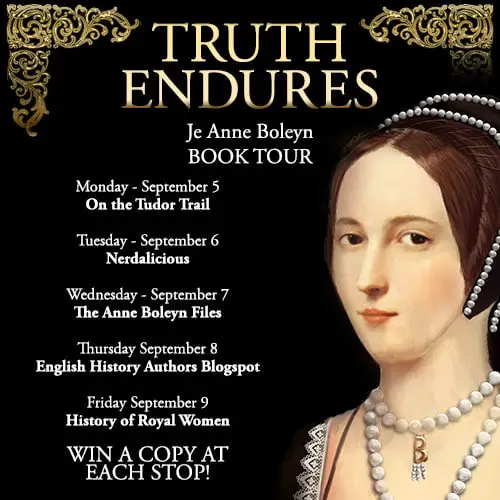 Here are the links to the two stops Sandi has already done:
Sandra Vasoli, author of Anne Boleyn's Letter from the Tower, Struck with the Dart of Love and Truth Endures, earned a Bachelor's degree in English and biology from Villanova University before embarking on a thirty-five-year career in human resources for a large international company.
Having written essays, stories, and articles all her life, Vasoli was prompted by her overwhelming fascination with the Tudor dynasty to try her hand at writing both historical fiction and non-fiction. While researching what eventually became the Je Anne Boleyn series, Vasoli was granted unprecedented access to the Papal Library. There, she was able to read the original love letters from Henry VIII to Anne Boleyn—an event that contributed greatly to her research and writing.
Vasoli currently lives in Gwynedd Valley, Pennsylvania, with her husband and two greyhounds.
Struck with the Dart of Love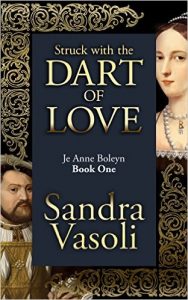 In a love letter to Anne Boleyn, Henry VIII wrote: "It is absolutely necessary for me to obtain this answer, having been for above a whole year stricken with the dart of love, and not yet sure whether I shall fail of finding a place in your heart and affection…", but did Anne ever feel that way about the King?
Tradition tells us that Henry pursued Anne for his mistress and that she resisted, scheming to get the crown and bewitching him with her unattainable allure. Nothing could be further from the truth.
One cold, misty grey day while hunting, Henry and Anne come face to face. It is an encounter that changes everything as Anne, too, is struck by the dart of love. He is powerful and graceful, elegant and witty, and in the King, she finds a passionate consort. But he is married – and the path to their union is fraught with hazard. Only the greatest of commitments will allow them to persevere until they might hope to be together.
Truth Endures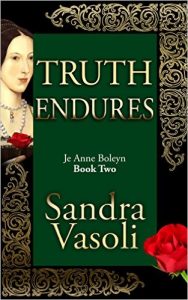 On 1st June 1533, the ancient, traditional rituals of coronation are carried out, and Anne Boleyn emerges as Queen Anne Boleyn, a queen destined to rule alongside her husband, King Henry VIII of England.
It's the culmination of everything the couple have worked for and the reward for their perseverance. And Anne is pregnant. They fervently believe that she is carrying Henry's longed-for son and heir. The entire world lies at Anne's feet.
But being queen is not easy. Anne is determined to be a loving mother, devoted wife, enlightened spiritual reformer, and a wise, benevolent queen. But others are hoping and praying for her failure. Her status and very life become precarious as people spread downright lies to advance their objectives.
But the truth will endure. This story is Anne's truth.
Here are links to find out more about Sandi's novels on your Amazon store. I loved them!
Struck with the Dart of Love – http://getbook.at/dartoflove
Truth Endures – http://getbook.at/truthendures