And Whereas the crowned, the Most Happy Falcon was no more, a Phoenix was rising
Posted By Claire on May 19, 2014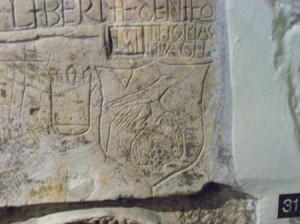 The 19th May 1536 saw the end of Anne Boleyn "The Most Happy" and the next day Henry VIII became betrothed to Jane Seymour. It was the end of the white falcon (Anne's badge), but the phoenix (Jane's badge) was rising.
Thank you so much to Yann Kergourlay for putting it so well: "And Whereas the crowned, the Most Happy Falcon was no more, a Phoenix was rising".
This carving of Anne Boleyn's badge can be found in the Beauchamp Tower at the Tower of London. The falcon is missing its crown and scepter; it is no royal bird. It is thought that it was carved by a supporter of Anne Boleyn at her fall in 1536.
If you are visiting the Tower of London today then don't forget to pay your respects to Anne Boleyn in the Chapel of St Peter ad Vincula, where she was laid to rest, and look out for this carving in the Beauchamp Tower – as you can see, it's near the number "31".
Sources