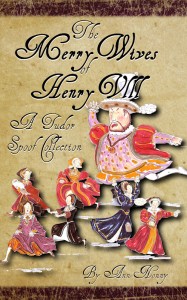 To celebrate the launch of my friend Ann Nonny's The Merry Wives of Henry VIII: A Tudor Spoof Collection, I've decided to run a Tudor spoof writing competition.
If you're not sure what a spoof is, it is a satire or a parody. Ann Nonny parodies TV, movies and works of historical fiction in her book, and that's what I'd like you to do.
Here are the details…
Prize
The writer of the winning spoof will win a paperback copy of Ann Nonny's The Merry Wives of Henry VIII: A Tudor Spoof Collection and a set of Henry VIII and Six Wives Drink Charms.
Here's the blurb for Ann's book:
"A collection of irreverent, tongue-in-cheek, side-splittingly funny Tudor history spoofs from the insane, but rather clever, Ann Nonny.
For the first time since the 16th century, we are able to share over 40 celebrated spoofs by Tudor literary genius (read mad woman) Ann Nonny. Her writing provides us with a unique insight into Tudor England, and the soap opera which was Henry VIII's life.
Nonny's work will no doubt find its way into the annals of English history and be enjoyed for many centuries to come.
Tales in this book include:
20 Things to Remember When Marrying Henry VIII
The Second Boleyn Tart
Bring Out Your Dead
The Six Ex-Wives of Henry
If Only There Had Been a Prenup
… and many more."
The set of seven beautiful, unique and collectible wine glass charms features collages from the renowned artist Tiffini Elektra. They show King Henry VIII, Catherine of Aragon, Anne Boleyn, Jane Seymour, Anne of Cleves, Catherine Howard and Catherine Parr, and are just perfect for identifying whose drink is whose at parties and get-togethers.
Rules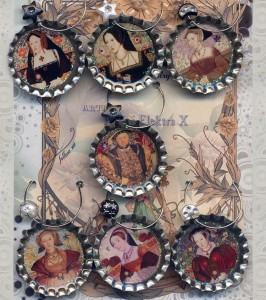 The spoof should have a minimum of 300 words and there is no maximum limit so you can let yourself go!
You can parody any work of fiction, TV series or movie, or you could parody a real historical event (à la Blackadder, for example), but it must be Tudor history themed.
Be as funny and ridiculous as you like, that is the whole point of spoofs.
It cannot be defamatory or malicious, and please do not name modern day people.
Email your spoof, along with your full name, to claire@theanneboleynfiles.com by the end of Friday 21st September 2012. The articles will be judged by spoof writer Ann Nonny (and it's not me, honestly), then I will announce the winner and publish the winning spoof here on The Anne Boleyn Files on 28th September.
Your spoof must be your own work and by entering the competition you are giving your permission for it to be published on the site.
Do not use a piece of writing that you have already had published elsewhere.
Two entries maximum per person.
The prize is non-transferrable and cannot be exchanged for something else.
If you're interested in Ann Nonny's book, it is available on Amazon as a Kindle or paperback – click here.
If you have any questions then either email me or comment below.
Happy writing!