Tudor Society Open Day – Friday 28 October
Posted By Claire on October 26, 2016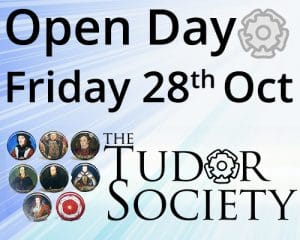 As many of you know, as well as running the Anne Boleyn Files I'm also the founder of the Tudor Society, an online community which brings together Tudor history experts and Tudor history lovers from all over the world.
To give people a taster of what the Tudor Society is all about, we are holding an open day this Friday, 28th October. As well as opening up the website and archives for the day, we also have a whole day's worth of expert live chats and giveaways planned. This is a chance for you to interact with historians, authors and other Tudor history buffs, to ask questions and to discuss and debate. Topics include Anne Boleyn, George Boleyn, Jane Boleyn, Charles Brandon, Edward VI, Tudor music, Tudor medicine, Anne of Cleves, the Battle of Bosworth, Mary I, Arthur Tudor… and lots more.
You can see the whole programme of live chats and their times over at the Tudor Society – click here. There will be a giveaway at each live chat.
But that's not all, there are magazines, videos, quizzes, resources and articles to enjoy, plus a free downloadable report (available Friday), so please do come along on Friday, I'd love to see you there and I will be taking full advantage of this opportunity to 'talk Tudor' all day! Will you join me?